Kenya seizes 228 tusks in year's biggest ivory haul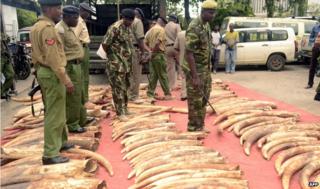 Kenya's government says it has seized illegal ivory which came from at least 114 elephants, its biggest find this year, in the port city of Mombasa.
One suspect was arrested in a raid on a warehouse which housed 228 tusks, the Kenya Wildlife Service (KWS) said.
There is growing concern over ports in Kenya, Togo and Tanzania being used to export African ivory to Asian markets.
The demand for ivory is being driven by China and South-East Asia, where it used in traditional medicine.
"It's the first seizure of this magnitude since the beginning of this year in Mombasa," KWS spokesman Paul Muya told AFP news agency.
He said that authorities were still weighing the ivory and could not yet confirm its origin.
It was possible that the ivory originated from elsewhere in Africa and had been taken to Mombasa for export, a KWS official said.
In addition to the tusks, another 74 pieces of ivory were found.
In April Kenya's government suspended five officials from the wildlife service as part of an investigation into mismanagement.
The government said it would directly oversee the running of the wildlife service, responsible for Kenya's national parks, for three months.
According to Kenyan officials, at least 18 rhinos and more than 50 elephants have been killed so far this year - a similar rate to that recorded last year.
However, some conservationists argue that the figure is much higher.
The wildlife service recently denied that it was losing the battle against poachers.