South African President Jacob Zuma admitted to hospital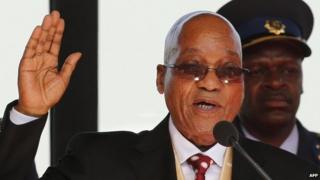 South Africa's President Jacob Zuma has been admitted to hospital for tests, his office has announced.
"Yesterday President Zuma was advised to rest following a demanding election," a statement said. Doctors were satisfied with his condition.
Mr Zuma, 72, was sworn in for a second term on 24 May following the African National Congress election victory.
His cabinet has to tackle worsening economic problems with unemployment at nearly 25%, analysts say.