South Africa toilet protest: Campaigners reveal rears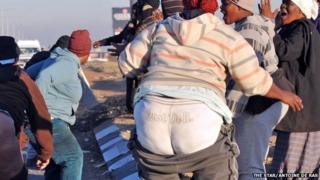 Police fired rubber bullets and tear gas to disperse protesters who bared their rears during a protest over a lack of proper toilets in South Africa.
Hundreds of residents barricaded a major road in Soweto protesting against bucket toilets.
During the apartheid era, residents in black townships were provided with an outside bucket instead of flush toilets like those in houses in white suburbs.
Protesters say the "bucket system" should no longer exist.
In years following the end of white minority rule in South Africa in 1994, a government programme had aimed to replace the bucket system in informal settlements by 2007.
The BBC's Pumza Fihlani in Johannesburg says while protests about the lack of basic amenities are common in South Africa, this is a rare show of displeasure.
Emptied buckets
"They [the protesters] were showing their bums by taking their trousers down on the street... to show their anger with service delivery issues," the South African Press Association (Sapa) quotes police spokeswoman Kay Makhubela as saying.
The protesters live in accommodation in Soweto that used to be a men-only residence during the apartheid era.
The angry residents squatted in the road, pretending to relieve themselves and some emptied full buckets of excrement on the road.
They also complained that their buckets had not been emptied by the authorities in three months, South Africa's Star newspaper reports.
The police tried to defuse the situation by calling the ward councillor to address them.
However, they did not believe their other concerns over water and electricity would be resolved, according to Ms Makhubela.
Police then used teargas and fired rubber bullets to disperse the protesters.
No-one was injured or arrested and most of the demonstrators then left.
Officials estimate that close to 300,000 homes around the country still use the bucket system.
Last year, the South African Human Rights Commission said that the bucket system was a human rights violation and urged the government to devise a sanitation plan to urgently eradicate it.
Statistics South Africa's most recent household survey said that 5.3% of houses in the country had no toilets or bucket toilets in 2012, compared with 12.3% in 2002.