Libyan army checkpoint targeted by blast in Benghazi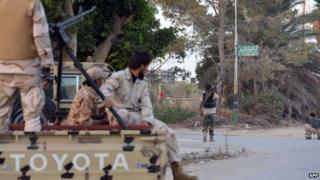 A big explosion at an army checkpoint some 50km (30 miles) outside the eastern Libyan city of Benghazi has wounded six people, army officials say.
A suspected suicide car bomber was the only fatality in the attack, they add.
The same checkpoint was targeted in an attack last year that killed 13 troops.
Benghazi, like most of Libya, has been plagued with violence and instability since Muammar Gaddafi was forced from power in 2011.
The city, which was at the heart of the anti-Gaddafi uprising, has seen clashes between a paramilitary force and Islamist militants in recent weeks.
Officials say three soldiers and three civilians were wounded in Wednesday's attack.
The number was revised down from initial reports which indicated that two people had died in the attack.
"There are body parts spread all over ...so we first thought two people had been killed," Reuters quotes an army official as saying.
Libyan media reports suggest the checkpoint was run by forces belonging to renegade General Khalifa Haftar, who is currently waging a military campaign against Benghazi's Islamist militia brigades.
The groups being targeted by Gen Haftar's forces are the Ansar al-Sharia Islamist militia and the February 17 brigade, which fought against Gaddafi in 2011.
Gen Haftar's campaign has been condemned by the Libyan authorities, who have called it an "attempted coup".