Mali unrest: UN surveillance drones to be deployed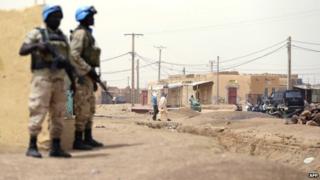 Surveillance drones are to be used by the United Nations in Mali's volatile and vast northern desert region.
UN peacekeeping head Herve Ladsous told the UN Security Council they would help protect civilians and troops.
A 8,000-strong UN force is deployed to help stabilise the region after French and African troops ousted Islamist militants from the main towns in 2013.
Both ethnic Tuareg separatist rebels and al-Qaeda-linked militants remain active in the north.
Mali's Foreign Minister Abdoulaye Diop said the government would like the drones to be in service "as soon as possible", the Associated Press news agency reports.
After fighting in Kidal in May, three Tuareg rebel groups agreed a ceasefire with Mali's government.
Mr Ladsous said the drones, known as unmanned aerial systems, would be used to enhance "situational awareness" the UN's ability to protect civilians and staff.
He underlined the importance of peace talks to stability and reversing the deterioration of security in Kidal.
"A successful political process is the cornerstone" to stability, the UN peacekeeping chief told the Security Council.
Despite a "promising start" a year ago "the government and the armed groups have made little progress towards real, substantive dialogue", he warned.