South Africa investigates 'wife gift' for SABC head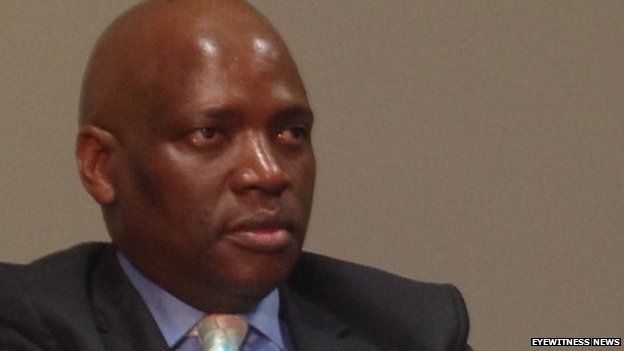 An investigation has been launched in South Africa into allegations that the head of SABC, the public broadcaster, was given a wife as a gift.
The Commission for Gender Equality said it had received a complaint after it was reported that Hlaudi Motsoeneng was given a bride by traditional chiefs.
They were part of a cultural group asking for more programmes to be broadcast in the Venda language.
The government said their behaviour was "regrettable".
Mr Motsoeneng has not commented.
The incident is said to have occurred during his recent visit to the northern Limpopo province where he and other SABC executives met the Venda lobby group, Mudzi wa Vhurereli ha Vhavenda.
"He chose the one he liked.
"All the girls were there with their parents. Their parents knew what was going to happen and they all agreed."
According to the Sowetan, Mr Motsoeneng chose a 23-year-old human resources management student who was pictured bare-breasted next to him.
He is also alleged to have been given a cow and a calf.
The South African women's ministry said it viewed the whole process as an abuse of cultural values.
"The use of women as gifts as if they were livestock is a serious regress and an insult to the gains of 20 years of democracy and freedom, particularly the contribution of women," a statement from the ministry said.
SABC spokesperson Kaizer Kganyago told the BBC he was unaware of the Commission for Gender Equality's investigation and that if it had any issues, they should be taken up with the Venda group concerned.
But the Commission for Gender Equality spokesperson Javu Baloy told the BBC that letters had been sent to all those involved about the complaint and its recommendations would be made next month.
Related Internet Links
The BBC is not responsible for the content of external sites.