Mauritania votes amid opposition boycott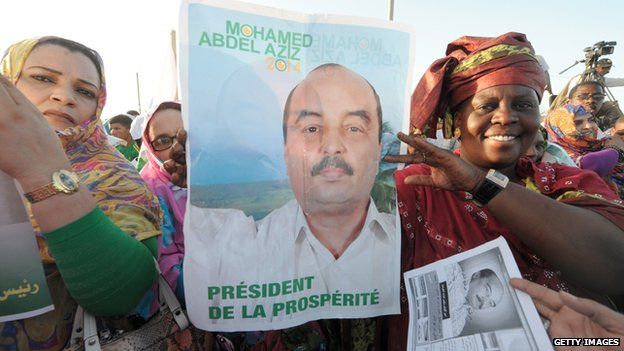 Mauritanians vote to elect a president on 21 June, but the poll is likely to be overshadowed by an opposition boycott.
It is the second election since President Mohamed Ould Abdelaziz seized power in 2008 - and he has worked hard since then to crack down on Islamist militants who have roamed across borders in the Sahara Desert in recent years.
A general in the army before he took power, President Abdelaziz is positioning himself as an ally of the West in the fight against al-Qaeda in the Islamic Maghreb and its allies.
He tried in vain to pre-empt the militants' capture of the northern desert region of neighbouring Mali in 2012, but managed to hold them at bay in Mauritania itself. This fight against terrorism remains a central platform of his election campaign.
Closer to home, voters are also concerned about poverty and high unemployment, and the opposition accuses him of failing to counter corruption.
The vote takes place against a background of historic divisions between the black African and Arab population, as well as concern about the official status of Islamic law.
President Abdelaziz faces four other candidates, the two most prominent of whom are campaigners on these issues.
Black rights activist Biram Ould Dah Ould Abeid is campaigning against the persistence of slavery, saying repeated laws to abolish it remain ineffective.
Laila Maryam Mint Moulaye Idriss, the only female candidate and a senior staffer at the Mauritanian Information Agency official news agency, is campaigning on a youth and women's rights ticket.
Why is the opposition boycotting?
The main opposition National Forum for Democracy and Unity (FNDU) disputes President Abdelaziz's 2009 presidential win, and accuses the authorities of bad faith over preparatory talks about the election, and has dubbed the polls a "masquerade".
Specifically, FNDU leader Cheikh Sidi Ahmed Ould Babmine accuses the National Electoral Commission of bias towards the government; the authorities say the commission has opposition representation.
When the government refused to postpone the vote, the FNDU declared its boycott.
There is little doubt that President Abdelaziz will be re-elected, given the opposition boycott.
Domestic and foreign observers agree that the crucial factor in establishing his legitimacy will be voter turnout.
If the boycott is effective and President Abdelaziz is re-elected on a low poll, it will undermine his mandate from the start.
BBC Monitoring reports and analyses news from TV, radio, web and print media around the world. For more reports from BBC Monitoring, click here. You can follow BBC Monitoring on Twitter and Facebook.