Nigeria's Boko Haram 'seizes women' in Borno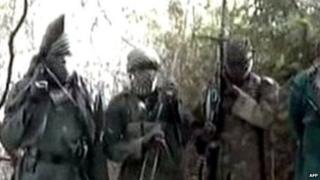 More than 60 women and children have been abducted in northern Nigeria by suspected militant Islamists, residents and officials say.
The abductions are said to have taken place during a series of raids over the past week on villages in Borno state.
Dozens of people were killed in the attacks, and people have been fleeing the villages, a BBC reporter says.
The Islamist group Boko Haram is still holding more than 200 girls it captured in Borno's Chibok town on 14 April.
Boko Haram is demanding the release of its fighters and their relatives, in exchange for the girls. The government has rejected this.
BBC Nigeria correspondent Will Ross says the latest abductions do not come as a surprise.
Many remote villages in north-eastern Nigeria are extremely insecure and when Boko Haram fighters attack, they often spend hours looting and killing, he says.
The abductions took place in the Damboa area, close to Maiduguri, the capital of Borno State and the headquarters of Boko Haram until it was forced out by the military and vigilante groups.
Kummabza was just one of the villages targeted, our correspondent says.
One of the village's residents told BBC Hausa: "These Boko Haram insurgents just came in and raided entire villages.
"They captured some women and children and burnt almost all the houses."
The area's senator, Ali Ndume, told the BBC that some men had also been abducted.
"They took them to Izge [a village], sorted them out, took away some females and males that are strong and left the elderly and the weak ones."
He said it was still not clear exactly how many people had been taken away.
A senior officer in the Damboa local authority told AFP news agency that some of the survivors, including women and children, had fled on foot to a village about 25km (16 miles) away.
Meanwhile, security forces said gunmen raided two villages in Kaduna state in central Nigeria overnight, killing dozens.
"Twenty-one people were killed in Karshi and 17 others were killed in Nandu," local government official Emmanuel Adamu Danzaria told the AFP news agency.
It is not clear who carried out the attacks but the area has suffered from conflict between Christians and Muslims.
Hundreds were killed in Kaduna following national elections three years ago.
---
Who are Boko Haram?
Founded in 2002
Initially focused on opposing Western education - Boko Haram means "Western education is forbidden" in the Hausa language
Launched military operations in 2009 to create Islamic state
Thousands killed, mostly in north-eastern Nigeria - but also attacks on police and UN headquarters in capital, Abuja
Some three million people affected
Declared terrorist group by US in 2013
Profile: Boko Haram leader Abubakar Shekau