Algeria celebrates World Cup success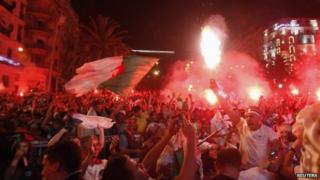 Tens of thousands of fans took part in celebrations across Algeria after their team qualified for the knock-out phase of the World Cup for the first time.
Algeria secured qualification in Brazil with a 1-1 draw against Russia, who were eliminated from the competition.
Fireworks lit up the night sky of the capital, Algiers, as crowds danced and waved flags and car horns blared.
A BBC reporter says the partying went on until dawn, with whole families taking part in the football euphoria.
Convoys of cars with honking horns drove through Algiers and many streets were transformed into dance floors, the BBC's Mohamed Areski Himeur reports from the city.
In many cities in France - which has a large Algerian population - supporters of The Foxes also took to the streets in celebration.
In the next round of the World Cup, Algeria face Germany on Monday.
In the 1982 tournament, West Germany were accused of deliberately playing out the 1-0 victory over Austria that ensured both teams progressed at Algeria's expense.
"We have not forgotten," Algerian coach Vahid Halilhodzic said.