Boko Haram: Nigerians share their fears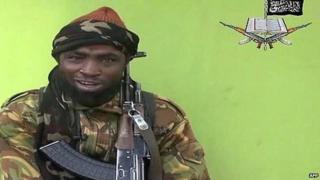 The Nigerian militant group Boko Haram came to the world's attention after kidnapping more than 200 schoolgirls earlier this year. In its fight to overthrow the government and create an Islamic state, the group has caused havoc in Africa's most populous country through a wave of bombings, assassinations and abductions.
Here, Nigerians share their experiences on what it is like living in the country.
Binta Muhammad (Mami), 29, Kano
I'm directly affected by this growing insecurity in the country.
Boko Haram militants killed my father in 2012 for daring them.
He was constantly challenging them for claiming to be Muslims yet killing innocent people which is un-Islamic.
They came after him and killed him while he was getting ready to say his evening prayer.
We are still devastated and left afraid of them. We also do not have hope left in the federal government because they don't seem serious about tackling this problem.
Abubakar Abadam, 30, Borno
Boko Haram members attack this area every day.
They are in charge here and no Nigerian soldier dares to approach them.
It is now Ramadan and we are fasting.
We are expected to worship Allah more but we can't move freely as we fear these guys could just come and bomb us.
Life here is very difficult. The government has abandoned us.
The security services are ill-equipped. They just can't handle this Boko Haram crisis.
Adamu Aliyu Ngulde, 29, Maiduguri
Boko Haram wreaks havoc whenever they want. They kill people, kidnap women and steal from banks.
They also burn villages and towns without encountering any resistance from security forces.
Everybody here lives in fear. The Nigerian army - which is paid to protect us - takes to their heel whenever Boko Haram militants come visiting.
We have lost confidence in our government. We have resorted to self-help but that has resulted in more killings by Boko Haram militants.
Life is unbearable here.
Aisha Ya'u
The problem of insecurity is seriously unsettling us.
When you wake up in the morning, you are not sure of what will happen before evening.
Militants attack freely and the bitter truth is that nobody can confront them.
They have sophisticated weapons so nobody can dare them.
Just a few days ago we heard sounds of explosives here and we were told Boko Haram militants will be coming during Ramadan fasting to attack us.
These attacks have crippled businesses in northern Nigeria.
With the attacks in the heart of Abuja, Nigerians who hitherto thought Boko Haram was just a "northern" problem have now come to believe that it requires an all-inclusive approach to be curbed.