Liberian president warns against hiding Ebola patients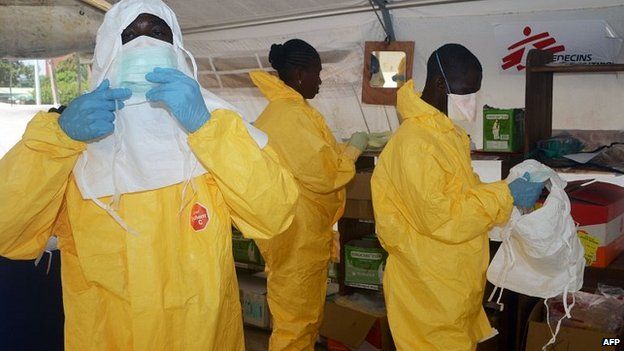 Liberian President Ellen Johnson Sirleaf has warned that anyone caught hiding suspected Ebola virus disease (EVD) patients will be prosecuted.
She told state radio that some patients had been kept in homes and churches instead of receiving medical attention.
Sierra Leone issued a similar warning last week, saying some patients had left hospital and gone into hiding.
The EVD outbreak is already the deadliest on record in West Africa, with 635 cases and 367 fatalities.
The World Health Organisation (WHO) has called for "drastic action" to contain the outbreak.
"Let this warning go out - anyone found or reported to be holding suspected EVD cases in homes or prayer houses can be prosecuted under the law of Liberia," Ms Sirleaf said.
"It is, as I speak, taking the lives of our citizens. The disease is real and is in our country and can kill a lot of people."
Most deaths have been in the southern Guekedou region of Guinea, where cases were first reported in March.
According to the WHO, Guinea has reported 396 cases and 280 deaths; Sierra Leone has 176 cases and 46 deaths; and Liberia has reported 63 cases and 41 deaths.
Health workers fighting the outbreak say they have encountered resistance throughout the region and that some have even been attacked.
Liberia's health ministry has set up treatment centres and launched a public service campaign that includes training health professionals to use protective clothing and forbidding hospitals to turn away patients with Ebola symptoms.
EVD, formerly known as Ebola haemorrhagic fever, has no cure and is spread by contact with the fluids of infected people or animals, such as urine, sweat and blood.
It says the epidemic will spread further unless there is a stronger international response.
The WHO has sent 150 experts to the region to try to contain the outbreak but has also warned of the potential for "further international spread".
Ebola virus disease (EVD)
Symptoms include high fever, bleeding and central nervous system damage
Fatality rate can reach 90%
Incubation period is two to 21 days
There is no vaccine or cure
Supportive care such as rehydrating patients who have diarrhoea and vomiting can help recovery
Fruit bats are considered to be the natural host of the virus
Related Internet Links
The BBC is not responsible for the content of external sites.