Pistorius re-enactment video 'not illegally obtained'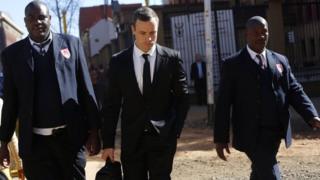 Footage showing South African athlete Oscar Pistorius re-enacting the events of the night he killed his girlfriend was not obtained illegally, an Australian TV network has said.
It was aired in Australia only by Channel 7 on Sunday and shows him shouting and running on his stumps as he simulates holding a handgun.
The defence says it is likely to close its case at the trial on Tuesday.
Mr Pistorius denies intentionally killing Reeva Steenkamp last February.
The Olympic and Paralympic track star says he shot the 29-year-old model and law graduate after mistaking her for an intruder.
But the prosecution argues that the double amputee killed her after a row.
'Heart of both cases'
Mr Pistorius' defence team has condemned the airing of the footage, which his family say was filmed in order to create a "forensic animation", but was "obtained illegally".
However, the executive producer of the Channel 7's Sunday Night programme defended the decision to air the footage.
"We would not have run the footage if we thought we had obtained it illegally," the AFP news agency quoted Mark Llewellyn as saying.
"The material shown on Sunday Night goes to the heart of both the prosecution and defence cases, including the account provided by Oscar Pistorius."
The BBC's Andrew Harding at court says that in the leaked footage Mr Pistorius looks unsteady on his stumps, but perhaps more mobile than his doctor had previously described.
When Mr Pistorius' trial resumed on Monday morning at the court in the South African capital, Pretoria, Wayne Derman retook the stand.
Dr Derman, who has worked with South Africa's Olympic and Paralympic teams, was cross-examined about his testimony that Mr Pistorius had limited mobility without his prosthetic legs.
Credibility attacked
Prosecutor Gerrie Nel who sought to undermine his credibility by suggesting he lacked objectivity.
Dr Derman said that due to Mr Pistorius' disability, to fight was his only alternative when he believed there was an intruder in the house.
After Dr Derman stood down, the defence asked to be given the option to call state psychiatrist Carla Kotze, who was part of the panel who observed Mr Pistorius at a psychiatric hospital in June.
They concluded that Mr Pistorius was not suffering from Generalised Anxiety Disorder as a defence psychiatrist had earlier testified, and was capable of distinguishing between right and wrong.
But Judge Thokozile Masipa ruled that only Dr Leon Fine, the defence-appointed psychiatrist on the panel, could be consulted.
As a result, defence lawyer Barry Roux said he was unlikely to call any further witnesses and asked for an adjournment until Tuesday morning.
Once Mr Pistorius' legal team closes its case, the court will be adjourned to allow both sides to prepare closing arguments before a verdict.
There are no juries at trials in South Africa, so the athlete's fate will ultimately be decided by the judge, assisted by two assessors.
If found guilty of murder, Mr Pistorius, who went on trial on 3 March, could face life imprisonment. If he is acquitted of that charge, the court will consider an alternative charge of culpable homicide, for which he could - if convicted - receive about 15 years in prison.