Central African Republic 'killers' named and shamed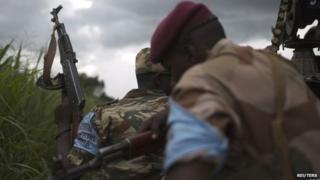 Amnesty International has identified those it believes are responsible for atrocities recently committed in the Central African Republic (CAR).
Several leaders from rebels and militia groups, as well as former Presidents Francois Bozize and Michel Djotodia, are named by the rights group.
The trouble in CAR began as Mr Djotodia's mainly Muslim rebels seized power in March last year.
The majority Christian state then descended into ethno-religious warfare.
Thousands of people have been killed and almost a quarter of the country's 4.6 million inhabitants have been forced from their homes.
The report - Central African Republic: Time for Accountability - says that most attacks have been conducted openly, with the perpetrators showing no fear of sanction.
CAR's religious make-up
Christians - 50%
Muslims - 15%
Indigenous beliefs - 35%
Source: Index Mundi
Mr Djotodia stepped down under regional pressure in January, but the fighting has continued.
He has declined to comment on the allegations.
The presence of some 7,000 international peacekeepers has also failed to put an end to the violence and revenge attacks.
"Those responsible for leaving hundreds of thousands of innocent people with nowhere to hide from their murderous violence must be given nowhere to hide from justice," Christian Mukosa, Amnesty International's CAR researcher, said in a statement.
"Only by ending impunity can the cycle of violence that has gripped CAR be stemmed," he said.
'Sophisticated command'
The report says that Mr Djotodia's Seleka forces are responsible for serious human rights violations including massacres, rapes, extrajudicial executions, torture, burning of villages and enforced disappearances during their military campaign that started in December 2012.
In particular it names Nourredine Adam, who headed Seleka's security services, as someone who should face justice.
Currently, the north-eastern part of the country is under the rule of Seleka and armed cattle herders - and human rights abuses are continuing there, the report says.
On Monday a church in the central town of Bambari came under attack by Seleka fighters, and 26 civilians who had sought shelter there were killed.
Amnesty says the mainly Christian anti-balaka militias were loosely organised groups of bandits until December 2013, when a co-ordinated attack was launched in the capital, Bangui, involving militia commander Levy Yakete.
Such deliberate and large-scale killings of civilians, sometimes followed by mutilation, dismembering and burning of the bodies, have continued unabated, the report says.
The anti-balaka groups are now well armed, have a "sophisticated organisational command" and include former soldiers loyal to ousted President Bozize, including members of his former presidential guard.
They have forced tens of thousands of Muslims to flee to neighbouring states, Amnesty says.
Following repeated anti-balaka attacks on Muslims in the west of the country and in Bangui, in April the UN refugee agency began to transfer Muslim communities to safer areas, it says.
Amnesty's report also says the peacekeeping forces have been involved in human rights violations, in particular it points to an incident involving Chadian troops who opened fire on civilians in a market in Bangui in March.
The new President, Catherine Samba-Panza, has asked the International Criminal Court to investigate the violence and in March the UN launched an inquiry into human rights abuses in the former French colony.
Amnesty names at least 20 people it says are suspected of ordering or committing atrocities and suggests they should be tried under international law by a hybrid court using national and international experts.