Kenyans fleeing to prison for safety in Lamu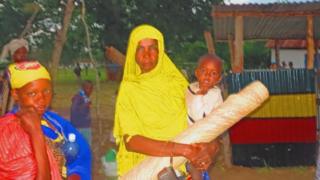 "I am really scared," says James Kamua who comes with his family every night to sleep at Hindi Prison in Kenya's coastal region.
He joins dozens of other families who stream into the compound to seek protection as the sun sets, afraid of suspected Islamist-linked militants who have been attacking towns in the area since June.
An estimated 5,000 people - mainly non-Muslims - are now camped at the prison and at two other camps set up in the Lamu area where the Kenya Red Cross is distributing some aid.
The gunmen have now begun targeting villages and harvesting produce in the fields to steal food.
"I don't know what my family will eat, all my crops have been stolen and the little that was left has been destroyed by monkeys. I can only go to my farm during the day," says Mr Kamua.
The trouble first began on 15 June when hotels, restaurants and the police station in Mpeketoni - a town on the mainland near the tourist resort of Lamu island - was attacked.
The violence has continued and more than 80 people have now died.
Somalia's al-Qaeda-aligned al-Shabab group has said it is behind the attacks, to avenge the presence of Kenyan troops in Somalia and the killing of Muslims in Kenya.
Kenya sent its troops to Somalia in 2011 to help the UN-backed Somali government eradicate the Islamist group which had threatened Kenya's tourist industry by kidnapping foreigners on its territory.
However, there is confusion about whether al-Shabab is directly responsible for the recent attacks - and the Kenyan government has instead blamed "local political networks".
Separatist denials
More than 70 people have been arrested in connection with the violence, including Lamu's governor Issa Timamy, who has been charged with terrorism and murder. He denies the charges.
The defence forces continue to comb the thick forested areas along the coast in search of the attackers.
Samuel Arachi, Kenya's deputy inspector general of police, is in Lamu to co-ordinate the investigation - and the reports that al-Shabab has been funding and training local Kenyans.
He says credible sources have confided to the police that al-Shabab has managed to penetrate the Mombasa Republican Council (MRC), an outlawed group that is fighting for secession of the coastal region.
"There are indicators that there could be a foreign element collaborating with outlawed criminal groups and especially we are talking about MRC," Mr Arachi told the BBC.
However MRC spokesman Randu Nzai Ruwa denied the allegations and said the group had no links with al-Shabab.
"When they say we are sending MRC youths to attack, what are they talking about? Since 2012 they don't allow MRC to hold meetings they don't allow us to gather," he told the BBC.
"The government is hiding something. Those who are accusing us of causing insecurity are inciters."
The MRC has said it is campaigning on behalf of the "oppressed" people of Kenya's coastal region, the majority of whom are Muslims, who say they face discrimination.
Many locals accuse various Kenyan governments over the years of helping people from other parts of Kenya to get rich by giving them land on the coast.
'Ghost town'
People like Mr Kamua are regarded as "settlers" as his father is not from the coast although he was born and bred here.
During the first raids, non-Muslims were singled out to be killed.
On Lamu island itself, leaflets are now circulating warning non-Muslim residents to move out.
In the early morning, dozens of people line up at the Lamu jetty to get a boat to neighbouring Mokoe town to catch a bus for onward journeys.
So Lamu's once-vibrant Old Town is not only being emptied of tourists.
In the local Catholic Church, less than 30 worshippers attended Mass last Sunday, in a church that usually hosts more than 500 people.
Those residents who remain move with fear in the evenings and many shop owners have closed down their premises for fear of attacks.
Hotels are also closing - on Shela Beach, where most of them are located, only one is operational with less than 10 guests.
At another hotel, workers are just lounging about with nobody to serve.
''Can't you see, it's only you we are hosting today?" says Kezai Mumbi, the manager of Lamu Palace Hotel.
Five tourists who were supposed to arrive on Tuesday have cancelled because of the insecurity.
"If things continue to be this way, Lamu will soon be a ghost town," she said, adding that the hotel had already sent some employees on unpaid leave.
Lamu's landlords attest to people moving away.
"I had six tenants but now only one has remained and since he was sent on unpaid leave by his employer, he cannot even pay his rent," Ali Bakari said.
"Others who had better jobs have sought transfers to another town.''
For the first time in several years there has been good rainfall along the coastal region.
The fields are lush green with maize and bean crops - and mangoes and bananas are almost ready for picking on small plantations.
Those who fled, like Mr Kamua, are desperate to get home to take advantage of the promises of a bumper harvest on their family plots.
But until the security situation improves they are not willing to take the risk.