Nigeria's $1bn loan to fight Boko Haram delayed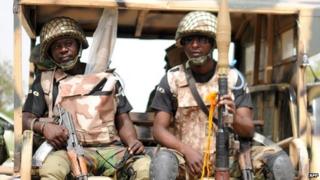 Nigeria's National Assembly has broken up for a two-month recess, meaning approval for a loan to help the military fight Boko Haram must wait.
President Goodluck Jonathan submitted an urgent request to borrow $1bn (£580m) on the penultimate day of parliamentary business.
Analysts say it would normally take several days for such a loan to be passed.
Boko Haram's campaign to establish an Islamic state has killed thousands.
Mr Jonathan has faced intense criticism over the government's failure to curb the increasingly brutal insurgency waged by Boko Haram.
The group caused international outrage in April when it abducted more than 200 schoolgirls in its heartland of north-eastern Nigeria.
Nigeria has a military budget of about $6bn a year but large sums are lost to corruption, critics say.
Emergency law
In the letter to the Senate and House of Representatives on Wednesday, Mr Jonathan said there was an "urgent need" to upgrade the equipment, training and logistics of the armed forces and security services to help them confront the "serious threat" posed by Boko Haram.
"For this reason, I seek the concurrence of the National Assembly for external borrowing of not more than $1bn," he said.
Both chambers of parliament are not due to sit again until the end of their annual recess in September.
The BBC's Bashir Sa'ad Abdullahi in the capital, Abuja, says both the lower and upper houses of parliament would then scrutinise the loan request concurrently.
Each chamber would debate the request first - it would then pass to a committee and back to the chamber for approval.
If the chambers differed, a joint committee would be formed to hammer out an agreement on the amount of the loan.
It is not a quick process and could not have been done in a day, our reporter says.
Nigeria's military is receiving help from the US, UK, China, France and Israel to secure the release of the schoolgirls.
Rights groups have repeatedly accused the military of carrying out widespread abuses against civilians, as it tries to hunt down insurgents.
Mr Jonathan sent more troops to the north-east last year after declaring a state of emergency in Borno, Yobe and Adamawa, the three states worst-affected by the insurgency.
However, Boko Haram has stepped up attacks since then - and many villages rely on a force of vigilantes for protection.
New York-based Human Rights Watch says more than 2,000 civilians have been killed in Nigeria this year by Boko Haram.
The deaths occurred in around 95 separate attacks in more than 70 towns and villages in the north-east, where Boko Haram launched its insurgency in 2009.
Who are Boko Haram?
Founded in 2002
Initially focused on opposing Western education - Boko Haram means "Western education is forbidden" in the Hausa language
Launched military operations in 2009 to create Islamic state
Thousands killed, mostly in north-eastern Nigeria - also attacked police and UN headquarters in capital, Abuja
Some three million people affected
Declared terrorist group by US in 2013