Nelson Mandela Day marked with South Africa clean-up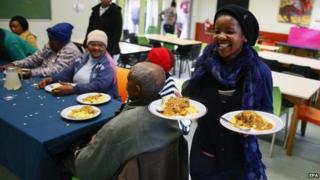 South Africans are marking the first Mandela Day since the anti-apartheid icon's death with a government call to clean up their country.
Events are also being held around the world, with people urged to spend 67 minutes helping others, to mark Nelson Mandela's 67 years of public service.
Friday 18 July would have been his 96th birthday.
Mr Mandela, who died last December, was revered around the world for fighting white-minority rule in South Africa.
He spent 27 years in prison, before becoming the country's first black president in 1994.
On Thursday, an auction of memorabilia he signed was auctioned for charity, raising about $160,000 (£93,000) for charity - less than anticipated.
President Jacob Zuma has urged people to take brooms and mops and take part in "Operation Clean-Up for Madiba" campaign, using Mr Mandela's clan name.
The president helped clean a school in Mvezo, the remote village where Mr Mandela was born in 1918.
However, some tax-payers have complained that should be the government's job, reports the AFP news agency.
Other people volunteered to help in homes for the elderly and orphanages, or made blankets to give to help homeless people in the southern hemisphere's winter.
Google has replaced its daily doodle with a cartoon about Mandela's life.