Kenya defence Twitter account hacked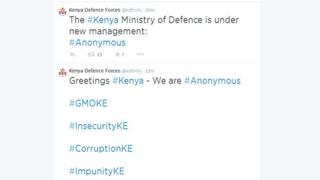 The Twitter accounts of the Kenyan defence forces and its spokesman have been hacked by activists protesting about corruption.
"All of you who have stolen money #Kenya, we are coming after you," reads one post.
The hacked posts were signed as being from activist group Anonymous.
Kenyan military spokesman Major Emmanuel Chirchir often uses Twitter to give updates of the war against Somalia's al-Shabab militant group.
The hackers criticised the government of President Uhuru Kenyatta, saying it only protected the interests of the elite and was not doing enough to tackle poachers and drugs traffickers.
Col Willy Wesonga said no internal military systems had been infiltrated, reports the AP news agency.
He said military technicians were trying to find out who was behind the attack.
The BBC's Frenny Jowi in Nairobi says the insecurity around the defence ministry's Twitter feed is embarrassing for a government that has been criticised for its response to a number of security challenges recently.
Last year, a group called Anonymous Africa hacked into the account of Zimbabwe's defence ministry, and targeted the website of South Africa's governing African National Congress.
Anonymous, a loosely-knit group, has been involved in a number of high-profile online protests and attacks in recent years.