Letter from Africa: Will Chibok parents switch sides?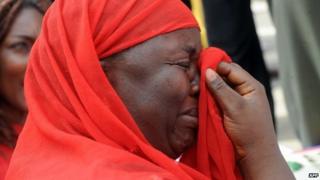 In our series of letters from African journalists, Sola Odunfa in Lagos writes that the schoolgirls abducted by militant Islamists in Nigeria are at the centre of a political battle between the president and his critics.
It is more than three months since militant Islamist group Boko Haram raided a boarding school in Chibok town in north-eastern Nigeria and took more than 200 teenage girls captive.
No senior member of the Nigerian government has taken the trouble to visit the town, which also suffered large-scale destruction during the attack.
It has now taken a visit by the 17-year-old Pakistani rights activist, Malala Yousafzai, to persuade Nigeria's President Goodluck Jonathan to meet the girls' parents to, at least, express his sympathy.
Malala, herself a victim of a militant attack, was in Nigeria last week to lend support to efforts to rescue the girls and to promote education of the girl-child.
It was during her audience with President Goodluck Jonathan last Monday that she appealed to him to meet the parents of the abducted girls and some of the girls who escaped from their captors' den.
'Undisguised dislike'
The president accepted her appeal and arrangements were immediately made to receive the parents and girls.
Responsible Nigerians of the #BringBackOurGirls campaign group had been camping in the open in Abuja for several weeks for the same reason Malala visited - to raise awareness about the plight of the girls - but they were shunned in government circles.
Perhaps, there was the consideration that they couldn't muster a fraction of the international media mileage which a meeting with the Pakistani girl was guaranteed to give, even though it was the group which brought the Chibok tragedy to the conscience of the world.
Also, there was the undisguised dislike for the campaigners because their leader is Obiageli Ezekwesili, who held a senior post in the government of former President Olusegun Obasanjo.
She had in the past year become an unrelenting critic of Mr Jonathan's government. Of course, it would have been politically inappropriate, in his minders' thinking, for the president to be seen to support a platform which is sure to enhance her public standing.
A parallel group #RescueOurGirls emerged in Abuja in June but its life was cut short by media reports that it was officially sponsored.
President Jonathan's biggest problem with the Chibok saga was the initial disbelief in government circles that it happened in the way it was described.
Every detail of the stories told was questioned but no rational answer was said to have been found.
The sheer logistics of transporting more than 200 screaming girls within a short time at night was considered beyond the capability of the abductors. There was difficulty in accurately establishing the number of victims.
Who are Boko Haram?
Founded in 2002
Initially focused on opposing Western education - Boko Haram means "Western education is forbidden" in the Hausa language
Launched military operations in 2009 to create Islamic state
Thousands killed, mostly in north-eastern Nigeria - also attacked police and UN headquarters in capital, Abuja
Some three million people affected
Declared terrorist group by US in 2013
Profile: Boko Haram leader Abubakar Shekau
'Changing lives'
Governor Emmanuel Uduaghan of the southern Delta State, who is one of President Jonathan's closest allies, summed up the pessimism in a magazine interview this way:
"The Chibok abduction is very confusing, emerging facts and information very confusing... There are too many questions on the Chibok girls, but the bottom line is that we have girls who have been kidnapped. Hopefully, let us find a way of getting them out, whether they are 200, 50 or two."
Domestic and international pressure prevailed and the government stepped up military action in the north-eastern region, not only to rescue the Chibok girls but also to contain the insurgents. This may not have translated into total success but without it the situation might have been worse.
The Malala visit came in very handy for the president's men to raise a platform for the Chibok people to look up to Mr Jonathan - and him alone. In Abuja on Tuesday they get the opportunity to taste what life could be in the government camp, in contrast to what it is like hobnobbing with those seen as "government enemies" - they will be the toasts in State House rather than on-lookers.
I bet their lives will change somewhat and they will forget how long it has taken to see and hear the president tell them how much he cares for them, their children and their town.
They may even begin to agree with the government that some opposition parties and other critics are quietly encouraging Boko Haram's insurgency. That couldn't be bad for President Jonathan seven months ahead of the presidential election.
If you would like to comment on Sola Odunfa's column, please do so below.