South Sudan rebels 'withdraw from Nasir after battles'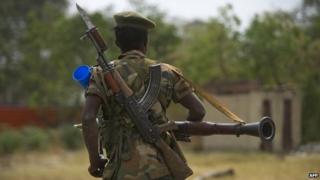 Government forces in South Sudan have retaken the strategic town of Nasir in Upper Nile state attacked by rebels on Sunday, the UN says.
It was the scene of the worst clashes since a ceasefire was agreed in May.
UN peacekeepers say there was heavy gunfire in the town overnight and early in the morning.
Further talks are due to start next week as attempts continue to end the conflict that broke out in December, leaving 1.5 million people homeless.
What began as a political dispute between President Salva Kiir and his former deputy, Riek Machar, has escalated into ethnic violence.
The rivals met in May and recommitted themselves to a ceasefire negotiated in January by regional leaders.
The government says rebel forces, who said they seized Nasir in an act of "self-defence" because of several attempts by government forces to arrest their commander, withdrew after being overpowered.
But rebel spokesman Maj GenlLul Ruai Koang said the withdrawal was only tactical.
The UN mission in South Sudan says the number of casualties from the latest fighting is not yet clear.
South Sudan is the world's newest state and became independent in 2011.
The UN has about 8,500 peacekeepers in South Sudan. They have struggled to contain the conflict.