Air Algerie AH5017: 'Black boxes' arrive in France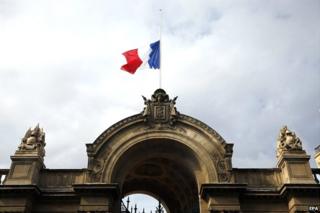 The two flight data recorders from a passenger jet that crashed in Mali last week, killing all 118 aboard, have arrived in France.
A French official said the "black boxes" from Air Algerie flight AH5017 were now being examined by experts.
French flags were lowered to half-mast on Monday for three days in memory of the dead, 54 of whom were French.
The plane was flying to Algiers from Ouagadougou, Burkina Faso's capital, when it crashed during bad weather.
Air traffic controllers lost contact with the plane early last Thursday after pilots reported severe sandstorms.
The plane, a McDonnell Douglas MD-83, had been chartered from Spanish airline Swiftair.
France has taken the leading role in the investigation.
French President Francois Hollande said last week that poor weather was the most likely cause of the crash, but added that nothing had been ruled out at this stage.
Martine Del Bono, a spokeswoman for the French aviation investigation office, said the data recorders arrived in France early Monday.
One of the devices was retrieved almost as soon as rescuers arrived on the spot, while the second was found late Saturday.
A source close to the investigation told the AFP news agency that one of them was badly damaged on the outside.
But Miss Del Bono refused to comment on their condition, telling press: "At this stage, we cannot say anymore."
Mr Hollande has promised that the bodies of all 118 people who died in the crash will be brought to France for identification.
He also said a memorial would be erected at the site in Mali and that those families who wished to visit it would be able to do so.
French, Malian and Dutch soldiers from a UN peacekeeping force (MINUSMA) have secured the site, about 80 km (50 miles) south of the Malian town of Gossi, near the Burkina Faso border.
---
---
Passenger origin
Burkina Faso: 27 passengers
France: 54
Lebanon: 8
Algeria: 6
Luxembourg: 2
Canada: 5
Germany: 4
Belgium, Egypt, Ukraine, Switzerland, Nigeria, Mali, UK: 1
Figures released by Burkina Faso authorities