Letter from Africa: Ebola invasion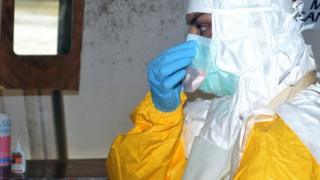 In our series of letters from African journalists, film-maker and columnist Farai Sevenzo considers the fear that surrounds the West African Ebola outbreak, the world's deadliest to date.
July's grim news of the sad end of Flight MH17 and the tragedy that befell Air Algerie passengers on a flight from Burkina Faso on a stormy night certainly focussed our thoughts on the inevitability of the end.
Those of us reading the shocking versions of the demise of others will have felt the pulse of our own mortality and wondered how it is possible for our world to become even more dangerous than we thought possible.
And as that very thought forms, you may hear of the doomed fate of a boatload of African immigrants heading towards Italy in their endless search for greener pastures and get a call from your mother who is just double-checking that you have not chosen to travel anywhere during this fateful moon.
There is nothing, some say - not even our thoughts or our mothers' prayers - that could rewrite our individual endings.
Perhaps these were the thoughts of one Liberian passenger called Patrick Sawyer, travelling the other day to Lagos on a flight which arrived safely in the Nigerian commercial capital, only for him to later die from Ebola.
We soon learned that his sister had died several weeks earlier in Liberia's capital, Monrovia, of the virus currently spreading panic throughout West Africa.
Her husband reportedly fled home in the wake of her death and Mr Sawyer had had to convince him to report to medics to be checked.
People are unwilling to go to hospitals to be screened even though early detection is the best hope of survival. They have seen that those who have been admitted rarely make it out again, dying in isolation without the comfort of their family around them.
Ebola since 1976
The virus detective who discovered Ebola
The World Health Organization says the deadly virus has claimed the lives of more than 670 people and infected more than 1,200 since the latest outbreak was detected in Gueckedou, Guinea, back in February.
Conspiracy theories
In the beginning there are flu-like symptoms that rapidly lead to external haemorrhaging from areas like eyes and gums, and internal bleeding which can lead to organ failure.
Since the very first case back in 1976, Ebola always arrives like an alien invasion in disparate African lands.
The unknown nature and resilience of the virus - it has a mortality rate as high as 90% - is currently stretching healthcare services in Guinea, Sierra Leone and Liberia and leading to the kind of drama only absolute fear propels.
Those infected sometimes mysteriously disappear from treatment centres in an effort to delay the inevitable and find their own means to prolong their lives.
Knowing the infectious nature of this frightening virus, the authorities in Sierra Leone's capital took to the radio to urge the public to find a runaway lest any more citizens be infected.
The Ebola virus represents a far more invidious threat to millions than other pandemics Africa has faced.
Porous borders and the informal manner in which communities hop across borders for commercial and family ties, and mountainous and inaccessible villages burying their dead unaware that coming into contact with corpses may leave many open to the haemorrhagic fever infection, are all adding to the crisis.
Then there is the natural suspicion of the new.
"Does Ebola really exist?" some ask. "Is it a new disease created in a laboratory to wipe us out?"
Ebola virus disease (EVD)
Symptoms include high fever, bleeding and central nervous system damage
Fatality rate can reach 90%
Incubation period is two to 21 days
There is no vaccine or cure
Supportive care such as rehydrating patients who have diarrhoea and vomiting can help recovery
Fruit bats are considered to be virus's natural host
Such conspiracy theories abound in societies where people fear their families will be stigmatised if identified with Ebola.
Medecins Sans Frontieres (MSF) has been working in Sierra Leone's Kailahun treatment centre and warned this month that they are under "massive time pressure".
"The longer it takes to find and follow up with people who have come in contact with sick people, the more difficult it will be to control the outbreak," they say.
Spacesuits
Already questions are being raised about the likely impact of Mr Sawyer's flight on his fellow passengers and the densely populated city that is Lagos.
Neighbouring countries like Ivory Coast, Ghana, Togo and Benin are casting nervous glances.
While promises from governments and international organisations to fight this current outbreak are not in short supply, MSF has called for all "parties to put their promises into immediate action on the ground".
It is obvious that a co-ordinated political and humanitarian response is sorely needed from Africa's leadership.
In the midst of the fear, nurses, doctors and specialists on the virus have been putting themselves on the front line and taking huge personal risks.
It takes medical workers more than 30 minutes to get dressed up in what look like spacesuits so that none of their skin can come into contact with infected patients. It is no wonder they too are feared by the sick as they lie in isolation wards.
Afterwards it takes 30 minutes for the medics to be doused down in chlorine as the suits are removed.
The WHO says more than 100 healthcare personnel have been infected and half have died tending to the infected.
Two doctors in Sierra Leone and Liberia who were at the forefront of efforts to contain Ebola have succumbed to the virus.
In the roll of the dice that is life, the courage of such men and women should keep the heartbeat of hope beating, no matter how fatalistic we get in our contemplative darker moments.
If you would like to comment on Farai Sevenzo's column, please do so below.