Diplomat to oversee mass Filipino evacuation from Libya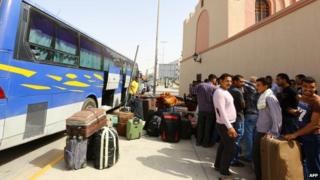 A senior diplomat from the Philippines is flying to north Africa to supervise the evacuation of 13,000 citizens from Libya after a Filipino worker there was beheaded and a nurse gang-raped.
Foreign Secretary Albert del Rosario is going to Tunisia to arrange the exodus of the workers and their dependents.
They are mostly based in the cities of Benghazi, Misrata and Tripoli.
Libya has been gripped by violence involving militias that spearheaded the 2011 uprising against Muammar Gaddafi.
Unemployment fear
The Philippine government ordered a compulsory evacuation on 20 July, soon after the beheaded body of a Filipino construction worker - who was abducted five days earlier - was found in Benghazi.
On Wednesday the foreign ministry said that a Filipina nurse had been abducted and driven off by a gang of youths from outside her home in Tripoli before being gang-raped by up to six suspects.
"We condemn these crimes that have been committed against our people," President Benigno Aquino's spokesman Herminio Coloma said in Manila.
Mr del Rosario said that many of his countrymen in Libya - employed in hospitals and in construction - do not want to leave because they fear unemployment at home.
The foreign ministry of the Philippines said that fewer than 1,000 of its citizens had left Libya by Wednesday despite the rapidly deteriorating security situation as rival militias clash over control of key population centres.
Mr del Rosario explained that he was flying to Djerba island in neighbouring Tunisia in an effort to "try to convince our people to leave [Libya] because the situation there is very dangerous".
He said that ships engaged to take evacuees to Malta could each carry up to 1,500 people, and that his government was still negotiating their safe passage through Benghazi, Misrata and Tripoli.
The government of the Philippines had to organise a similar mass evacuation from Libya in 2011, when Muammar Gaddafi was overthrown. Many of them later returned to their jobs in Libya.
Many Western governments - including the UK, France, Germany and the US - have already asked their citizens to leave the country. Several have also evacuated their embassies.