Kenya's leader Kenyatta orders Lamu land repossession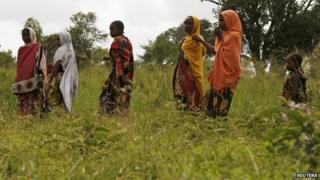 Kenya's President Uhuru Kenyatta has ordered the repossession of 70% of the land in Lamu, where there has been deadly violence since June.
He said an audit in Lamu County showed that 22 developers had irregularly acquired about 500,000 acres (202,342 hectares) of public land.
Tension in the area has been attributed to anger over people from other parts of Kenya acquiring land on the coast.
More than 100 people have been killed along the coast in raids by gunmen.
Somalia's al-Qaeda-aligned al-Shabab Islamist group has said it is behind some of the attacks, but the authorities suspect home-grown militants and local political networks of being involved.
The majority of inhabitants along the coast are Muslims, who say they face discrimination and accuse various governments over the years of helping people from other parts of Kenya to get rich by giving them land in the area.
Two years ago, a huge construction project began to develop a port at Lamu and an oil pipeline, railway and motorway to link it to South Sudan and Ethiopia - which may also be a factor in the scramble for land in the area.
'Dubious and suspicious'
Several people have been arrested in connection with the recent violence, which has included raids on towns and villages.
The trouble first began on 15 June when hotels, restaurants and the police station in Mpeketoni - a town on the mainland near the tourist resort of Lamu island - was attacked.
The BBC's Paul Nabiswa in the capital, Nairobi, says Mr Kenyatta's statement came after he met local leaders from Lamu to discuss ways of addressing the security problems which have devastated tourism in the area.
The president said the audit, looking at land ownership between 2011 and 2012, revealed some "shocking details".
Approximately 70% of the land had been acquired through "dubious and suspicious corrupt circumstances", he said.
In her assessment of the audit, Land Minister Charity Ngilu said: "This allocated land is four times more than the total allocated to the local communities.
"This unmitigated scramble for land in Lamu poses great danger to the socio-economic and political stability and growth of the area."
President Kenyatta said the land ministry and land commission should begin the immediate repossession of the land and ordered a police investigation into the affair.