Somali MP shot dead outside mosque by al-Shabab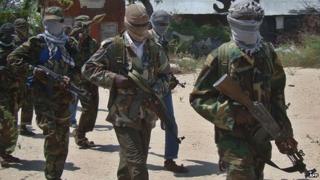 A Somali MP has been assassinated in Somalia's capital, Mogadishu - the fifth parliamentarian to be killed this year.
Aden Madeer was shot when he left a mosque in the city after Friday prayers, witnesses said.
The Islamist militant group al-Shabab told the BBC it carried out the assassination.
The al-Qaeda aligned militants said they would continue to target MPs who supported the UN-backed government.
Mr Madeer was the chairman of the parliamentary finance committee.
Last month, popular musician and MP Saado Ali Warsame was shot dead by al-Shabab gunmen.
"The murder of MPs is an attempt to intimidate and undermine those working to build a better Somalia. Their killers will not achieve that objective," UN envoy Nicholas Kay said in a statement.
"I commend Somalia's MPs for their courage and dedication in the face of continued attacks against them," he said.
Al-Shabab advocates the strict Saudi-inspired Wahhabi version of Islam and is battling the government to create an Islamic state.
Some 22,000 African Union troops are helping the government try to win back territory from the group.
They have taken back several key cities over the last three years, but al-Shabab still controls many smaller towns and rural areas of the country - and regularly launches attacks in Mogadishu.