South Sudan peace talks resume in Addis Ababa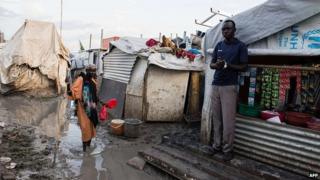 Peace talks between South Sudan's government and rebels have resumed in the Ethiopian capital, Addis Ababa.
The regional bloc overseeing the talks, Igad, has set a 10 August deadline to agree on a transitional government and implement a ceasefire.
The last round of talks between President Salva Kiir and rebel leader Riek Machar stalled in June.
Conflict erupted in December after Mr Kiir accused Mr Machar - his sacked deputy - of plotting a coup.
Mr Machar denied the allegation, but then marshalled a rebel army to fight the government.
More than 1.5 million people have since been displaced and the UN has warned that the country is on the verge of famine.
"This session of negotiations must make progress, we must end the war," said chief mediator Seyoum Mesfin at the resumption of talks in Addis Ababa.
He said that if war continues "it will have serious consequences" and added: "Those that insist on continued fighting must be held accountable."
Aid worker killed
As the talks resumed, the UN said it was "deeply concerned" about the deteriorating security situation in the town of Bunj, in Maban County, Upper Nile State.
The UN says a humanitarian worker was killed on Monday morning and there have been clashes between a local militia and deserting soldiers, who are suspected of links with the rebels.
An aid worker said thousands of locals had fled into camps already housing refugees from neighbouring Sudan.
South Sudan is the world's newest state and became independent in 2011.
The US and the EU have slapped sanctions on military leaders on both sides of the conflict and Igad (the Intergovernmental Authority on Development) has threatened measures if both sides continue to violate previous peace deals.