Rebel no-show at South Sudan talks in Ethiopia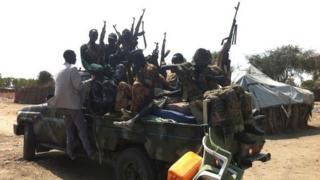 South Sudan rebels have failed to attend the second day of peace talks aimed at ending months of conflict, mediators say.
Organisers of the talks said it was not clear why they had not shown up.
On Monday, rebel negotiators had complained about the continued presence of Ugandan forces in South Sudan.
The talks are part of a long-running effort to finalise details on a transitional government. It is not clear whether they will continue.
The regional bloc overseeing the talks, Igad (the Intergovernmental Authority on Development) has set a 10 August deadline to agree on a transitional government and implement a ceasefire.
The last round of talks between President Salva Kiir and rebel leader Riek Machar stalled in June.
Conflict erupted in December after Mr Kiir accused Mr Machar - his former deputy - of plotting a coup.
Mr Machar denied the allegation, but then gathered a rebel army to fight the government.
Speaking in Washington on Tuesday, US Secretary of State John Kerry accused Mr Machar of being responsible for breaking previous ceasefires.
"He needs to understand the importance of living by the agreements," Mr Kerry said.
More than 1.5 million people have been displaced and the UN has warned that the country is on the verge of famine.
Igad has now urged the international community to pressurise the opposition to go back to the negotiation table.
Earlier chief mediator Seyoum Mesfin had warned that punitive measures could be taken if these round of talks failed.
Separately at least six South Sudanese aid workers have been killed over the last two days in violence close to the South Sudan-Sudan border, the UN has said.
Correspondents say that ethnically targeted attacks are characteristic of the violence which has blighted South Sudan since December.
The murdered aid workers belong to the Nuer ethnic group, the same group as Mr Machar.
South Sudan is the world's newest state and became independent in 2011.
The US and the EU have slapped sanctions on military leaders on both sides of the conflict.