Oscar Pistorius trial: Sense of an ending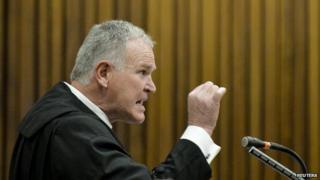 Judge Thokozile Masipa smiled inscrutably from time to time. But she asked surprisingly few questions, and gave no hint as to which way she was leaning, as Oscar Pistorius's lawyer Barry Roux presented his final arguments in court on Friday.
Both prosecution and defence had already submitted their detailed written arguments to the judge. With no jury to sway, the last two days in court felt, in some ways, rather overblown.
On Thursday prosecutor Gerrie Nel - a study in incredulity - focused on attacking the athlete's "deceitful" character.
On Friday Mr Roux responded with his own display of sustained indignation. He angrily accused the prosecution of manipulating and ignoring key evidence before proceeding to lay out - in forensic detail - the defence's timeline of events, screams, phone calls and bangs, the night Reeva Steenkamp was killed.
Given that the only eyewitness to the killing is rather firmly on the defence's team, Mr Roux was always going to have a more compelling reconstruction to offer the judge than Mr Nel. But will that be enough?
Mr Roux avoided - and occasionally mocked - his adversary's rather florid rhetorical style. But he too sometimes laboured his points, and made one discernable slip - when he tried to compare the disabled Mr Pistorius's "primal" reaction as he fired his gun to the case of an abused woman finally turning on her spouse.
Perhaps it was calculated to appeal to Judge Masipa's strength of feeling on the issue of women's rights. If so, it was, at best, a clumsy manoeuvre.
Mr Roux and Mr Nel both spent a good deal of time stressing the "impossibility" of various aspects of each other's versions. But my sense, as this trial has progressed, is that the disputed claims of experts and neighbours have cancelled each other out and faded into the background - leaving the judicial spotlight firmly on the shooting itself and both sides' attempts to explain Oscar Pistorius's precise state of mind as he repeatedly pulled that trigger.
It is my impression that the prosecution knows it over-reached when it sought to argue premeditated murder. It is also my impression that the defence knows that an acquittal now looks rather unlikely.
As Judge Masipa goes off to write up her verdict over the next month, I suspect she will focus on the options that lie between those two extremes.
One of them is murder - dolus eventualis - which means the judge didn't feel the state proved that Oscar Pistorius deliberately sought to kill either Reeva Steenkamp or a putative intruder, but by firing into such a small area he must have foreseen the likely consequences of his actions. A 20-year sentence is possible.
Another is culpable homicide, South Africa's version of manslaughter - which would essentially mean that the judge found the state had not proved murder beyond reasonable doubt, but that Pistorius was criminally negligent. A 10- to 15-year sentence would not be unusual.
Still giving nothing away, Judge Masipa smiled and thanked the prosecution and defence for their efforts and then walked out of courtroom D. Oscar Pistorius turned to face his relatives. His father, Henke gave a thumbs up.