South African ANC MP Pallo Jordan resigns over fake degree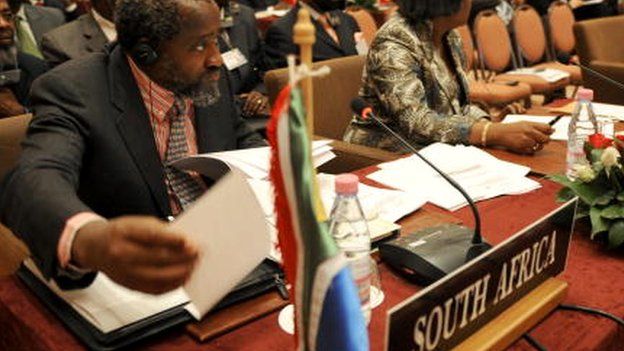 Top South African politician and anti-apartheid activist Pallo Jordan has resigned as an MP after it was revealed his academic qualifications were fake.
A former minister, he first served under ex-President Nelson Mandela and is generally referred to as Dr Jordan.
But media reports said he had lied on his CV about having a doctorate.
The governing African National Congress (ANC) said Mr Jordan had apologised for "deceiving government and the people of South Africa for many years".
"A man of Comrade Pallo Jordan's intellect does not need to perpetuate deceit, he must be given time to deal with his guilt," ANC Secretary General Gwede Mantashe in a statement.
"As the ANC, we have accepted his public apology. To apologise was not an action of the faint hearted."
Mr Jordan, 72, began working for the ANC in exile and rose through its ranks, returning to South Africa after the party was unbanned to become its spokesman.
He went on to held several ministerial posts after the end of white minority rule in 1994 until 2009.
A report in South Africa's Sunday Times newspaper said that its investigation found that the ANC veteran had no degrees or diplomas from the University of Wisconsin-Madison or the London School of Economics, the two institutions cited on his CV.
The BBC's Pumza Fihlani in Johannesburg says Mr Jordan is a respected political figure in South Africa and the news has caused a stir in the country.
But it is not the first time senior ANC members have been exposed for falsifying their qualifications, with two similar cases in the last four years, she says.
Related Internet Links
The BBC is not responsible for the content of external sites.