South Sudan leaders warned over 'man-made food crisis'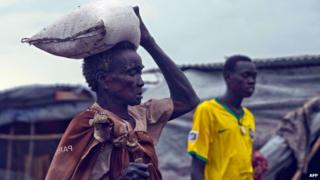 An international charity has condemned the rival leaders in South Sudan's conflict for failing to meet a regional deadline to end the civil war.
The failure to reach a deal means the country's "severe man-made food crisis could reach catastrophic levels", Care International said.
In May, the government and opposition had promised to agree and form a transitional government by 10 August.
Care said almost four million people are now suffering from a food crisis.
The conflict began in December 2013, triggered by political tensions between President Salva Kiir and his former deputy, Riek Machar, and then descended into ethnic violence.
A truce agreed in January also failed to bring peace, as fighting resumed soon after it was signed.
'Humanitarian catastrophe'
The civil war in South Sudan has forced 1.5 million people from their homes, left tens of thousands dead and almost four million suffering from a severe food crisis, according to Care International.
"The UN and NGOs have been warning for months that risk of famine is increasing," said Aimee Ansari, director of Care International in South Sudan.
"There is still time to avoid a humanitarian catastrophe, but the best solution is for all parties to permanently lay down their weapons."
Humanitarian aid organisations have faced hurdles when trying to deliver aid and assistance to those who need it, especially with the onset of the rainy season.
Several aid workers have been killed this month and many remain missing.
---