Africa's only polar bear, Wang, dies in Johannesburg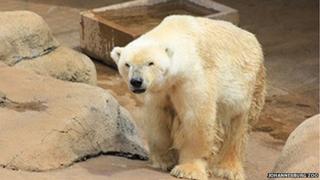 The only polar bear in Africa has died at Johannesburg Zoo in South Africa at the age of 30.
The much-loved bear, Wang, had to be put down because of heart and liver failure, the zoo said in a statement.
Wang's final days were filled with "enrichment programmes and special treats" given to it by its keeper Agnes Maluleke, the zoo added.
The bear was brought to South Africa in 1986 as part of a conservation exchange programme with a zoo in China.
Wang had in recent months been "pining the loss" of his partner of 27 years, GeeBee, who died in January, the statement said.
Polar bears are considered to have reached their full lifespan by the time they are 30.