Chadian soldiers 'rescue 85 Nigerians from Boko Haram'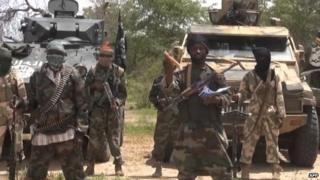 Reports are emerging of the rescue by Chadian troops of some 85 Nigerian villagers abducted earlier this week by suspected Boko Haram militants.
A Nigerian security official told AFP that they had intercepted a convoy of buses transporting gunmen and the villagers in a routine security check.
Neither the Nigerian or Chadian militaries have confirmed the reports.
Boko Haram is accused of kidnapping hundreds of people in the north-east of Nigeria, and neighbouring Cameroon.
The group, which wants to create an Islamic state in the region, sparked international outcry when they abducted more than 200 schoolgirls in April in Nigeria's remote down of Chibok in Borno state.
Speedboat escape
Dozens of men, women and children were seized from the remote fishing village of Doron Bag by boat across Lake Chad on Sunday.
Eyewitnesses said 26 people were killed in the raid.
A senior Nigerian security official told the Agence France-Presse news agency on Saturday that 85 people abducted in the attack had been found by Chadian troops.
"The convoy being led by six Boko Haram gunmen was stopped on the Chadian part of the border along Lake Chad for routine checks and the huge number of people in the convoy raised suspicion," the unnamed official said.
The six suspects were giving conflicting information on the hostages and their destination, he added.
Another official with the National Human Rights Commission in Maiduguri, capital of Borno state, said some militants had escaped on speedboats when they saw the convoy being stopped.
He said the rescued villagers, totalling 65 men and 22 women, were still in Chadian custody but that 30 people were still being held by the militants.
News of the raid on Doron Bag took days to emerge, due to the remote region's poor communication links.
The militants burned down some of the houses in the village, and took mainly women and some boys and girls, a village elder told the BBC.
Other survivors said young men were also taken possibly to be turned into Boko Haram fighters.
A state of emergency was declared in Borno and two other north-eastern states last year to help the military crush the insurgency but the militants have stepped up attacks since then.
The schoolgirls abducted in April are thought to be held in the vast Sambisa forest, along Nigeria's border with Cameroon.
The group has also carried out a wave of bombings and assassinations, including that of moderate Muslim leaders opposed to its ideology.
---
Who are Boko Haram?
Founded in 2002
Initially focused on opposing Western education - Boko Haram means "Western education is forbidden" in the Hausa language
Launched military operations in 2009 to create an Islamic state
Thousands killed, mostly in north-eastern Nigeria - but also attacks on police and UN headquarters in capital, Abuja
Some three million people affected
Declared terrorist group by US in 2013
Profile: Boko Haram leader Abubakar Shekau
---