Kenya's anti-terror unit guilty of abuses, says HRW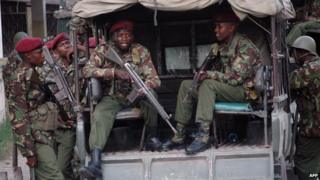 Kenya's Western-funded anti-terrorism unit has carried out a series of killings and "enforced disappearances" during its fight against militant Islamists, a rights group says.
"Horrendous" activities were taking place "right under the noses" of the government, Western embassies and the UN, Human Rights Watch (HRW) said.
The US and UK fund the unit.
The unit was set up in 2003, five years after al-Qaeda simultaneously bombed the US embassies in Kenya and Tanzania.
More than 200 people were killed in what was then the most high-profile attack by al-Qaeda.
'Suspects shot dead'
Kenyan, US and UK officials have not yet responded to HRW's report.
It had documented evidence of "at least 10 cases of killings, 10 cases of enforced disappearances, and 11 cases of mistreatment or harassment of terrorism suspects", mainly in the capital, Nairobi, since 2011, HRW said.
"Suspects were shot dead in public places, abducted from vehicles and courtrooms, beaten badly during arrest, detained in isolated blocks, and denied contact with their families or access to lawyers," it said in a report.
"Donors need to carry out their own investigations of these abuses and suspend their assistance to abusive forces, or risk being complicit in Kenya's culture of impunity," HRW added.
The "horrendous conduct" of the unit would not protect Kenya from terrorism, it said.
"It simply undermines the rule of law," the New York-based group added in a statement.
Somalia's al-Qaeda-linked al-Shabab group has carried out a wave of attacks in Kenya since 2011.
Last year, 67 people were killed after the group launched an assault on the upmarket Westgate shopping centre in Nairobi.
Al-Shabab said the attacks were in response to Kenya's decision to send troops to Somalia to bolster the weak UN-backed government.