Ebola crisis: Liberian troops impose slum quarantine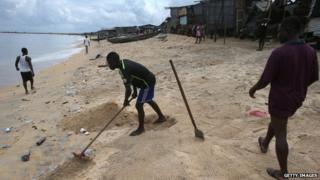 Security forces in Liberia's capital Monrovia have deployed to enforce a quarantine in a large slum area in order to contain the spread of Ebola.
The move set off protests from angry residents in West Point and people gathered at roadblocks to complain.
The president has also ordered a countrywide night-time curfew as part of new anti-Ebola measures.
Since the beginning of the year, 1,350 people have died of the virus in four West African countries.
New UN figures show that between 17 and 18 August, there were 221 new cases and 106 deaths.
A top Lagos doctor has just died of the virus, bringing the number of people who have died of Ebola in Nigeria to five, the health ministry said.
Colleagues said consultant Stella Ameyo Adadevo was the first medic to order that a sick patient from Liberia be tested for Ebola when he was admitted in July.
"We owe her a lot; she managed the situation like a thorough professional that she was. She had helped Nigeria to contain the epidemic in her own way," Akin Osibogun, the chief medical director at Lagos University Teaching Hospital, told Nigeria's Premium Times newspaper.
Kenyan travel restrictions have now taken effect, blocking travellers from Liberia, Sierra Leone and Guinea - the three countries most affected by the outbreak. Earlier this week Cameroon shut its border with Nigeria.
---
At the scene: Nathalie Wakam, BBC Africa, Douala
The closure of the border between Cameroon and Nigeria because of the Ebola outbreak is affecting the busy car market in Douala, Cameroon's economic hub. It is full of traders and mechanics, and is the place to go for anything vehicle-related.
Most of the dealers are Nigerian and import second-hand parts as well as new vehicles. They understand the need for caution but are concerned about trade.
"Since last week our goods are there in the port in Calabar - there's no movement," one of them said. The goods tend to be offloaded at Calabar, in southern Nigeria, shipped to other ports in Cameroon and then transported by road. "We are pleading with the Cameroonian and Nigerian governments to seek solutions," another trader said.
The closure was officially announced on Monday, but cross-border activity has been affected since last week. "There are families that have travelled to Nigeria for holidays and now they're supposed to come back for the resumption of school but they are blocked," a businessman explained.
---
'Teargas fired'
There is no known cure for Ebola, but the WHO has ruled that untested drugs can be used to treat patients in light of the scale of the current outbreak - the deadliest to date.
The experimental drug ZMapp has been used to treat several people who contracted Ebola in Liberia but the US firm that makes the drug says it has for now run out of it, so the only way to stop the current outbreak is to isolate the victims.
The BBC's Jonathan Paye-Layleh in Monrovia says troops are patrolling in West Point, the country's largest slum which is home to more than 50,000 and sprawls along the Atlantic coast. Ferries have been halted and coast-guard boats are monitoring the coastline.
---
Ebola Virus Disease (EVD)
Symptoms include high fever, bleeding and central nervous system damage
Fatality rate can reach 90% - but current outbreak has about 55%
Incubation period is two to 21 days
There is no vaccine or cure
Supportive care such as rehydrating patients who have diarrhoea and vomiting can help recovery
Fruit bats, a delicacy for some West Africans, are considered to be virus' natural host
---
A resident told the BBC that teargas was fired by police to disperse angry crowds.
Our reporter says fear and tension has been growing in the slum for days - a health centre was attacked on Saturday and residents feel not enough has been done to protect them.
"We have been unable to control the spread due to continued denials, cultural varying practices, disregard for the advice of health workers and disrespect for the warnings by the government," President Ellen Johnson Sirleaf said on Tuesday evening.
Dolo Town, about 40km (25 miles) from Monrovia, has also been put under quarantine and all entertainment centres are to be closed and video centres are to shut by 18:00 local time.