Ebola outbreak: Nigerians react as schools kept shut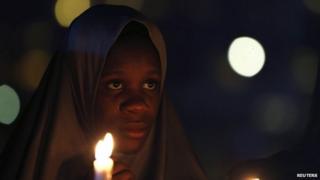 As the death toll from the Ebola virus continues to rise in West Africa, the Nigerian government has told all primary and secondary schools, private and public, to remain closed until 13 October rather than open next week as was planned.
Ebola has killed at least five people in Nigeria, all in Lagos, after American-Liberian Patrick Sawyer entered the country last month.
He died in Nigeria a few days after he was diagnosed.
Some Nigerians welcome the move, saying it could restrict the disease to one area and make it easier for the authorities to tackle.
But others are unhappy at the decision, arguing that - since Ebola is in only one state - pupils in other areas should have been allowed to go back to school.
Isah Ismail, Lagos
"I do have a daughter in school in Lagos. I strongly support the closure of schools until it is certified by the WHO [World Health Organization] that we have contained EVD [Ebola virus disease] in Nigeria.
"We have pupils and students returning from holiday and we cannot be sure that there will be adequate checks across our 1,000-plus porous entry points into Nigeria.
"Also, our culture doesn't encourage people to volunteer information on their health conditions or willingly make themselves available for screening.
"If an infected child who has been on holiday somewhere brings EVD to a school of over 5,000 unprotected and vulnerable children in Lagos, you can imagine the consequences. So it is better for the schools to remain shut than to have an emergency situation over Ebola."
Nafeesa Ahmad, Yola
"My opinion is that there is no need for the government to close all the primary and secondary schools till October since the higher institutions are open.
I'm against the decision because even if you say you are doing it to stop people from contracting the virus, these same people will meet in churches and mosques. What would you do about that one? Would you ask students to stop going to churches and mosques for worship? So I think the idea was wrongly conceived. The best thing to have been done was to close schools in the affected state and concentrate on making sure everyone is safe."
Adesuwa Osunde Tsan, Abuja
"I'm totally in support of the closure. I had talked with my husband and we had both agreed that our children would not be going back to school in September until we were satisfied that the coast is clear - one major reason being that children and teachers have travelled far and wide during the break and only God knows their status.
"We felt it would be good to have them settle in and be sure they are fine before they resume. So it is a good one for us."
Ali Sadiq, public servant based in Abuja
"The postponement of the schools' resumption by the federal government is a good move but the extension is too long.
"I can't imagine my two kids wasting six more weeks at home. Two to three weeks would have been enough for all that.
"Also the federal government should have concentrated on the schools in the affected states and shouldn't have made it a nationwide exercise.
"I hope this is not yet another drain pipe towards siphoning public funds, because in Nigeria anything is very much possible."
Christiana Anigbo Oniya
"I am against the continued closure of the schools.
"There are better measures to avoid or prevent the disease. There's the need to give the schools some orientation on how to check Ebola.
"Even with all the money government has allocated for prevention, they still have nothing to show for it.
"I think they should have got all necessary measures in place to check students or screen them when they come back to school or even to advise the school to get all medical equipment they need to test the temperature of the student when they come to school, and those that have high temperature can be asked to go home.
"The best measures to avoid or prevent Ebola is not to close down schools. After all, the children could also mix up in the church or even mosque."
Emmanuel Uba, Lagos
"In my opinion, there is nothing wrong with the postponement if it is really done with the good intention they claim. Anything that can help do away with Ebola is welcomed.
"If putting off children resuming school by one month can contribute in stopping the spread, I'm in support and I feel it can indeed minimize the spread."
Garba Yusuf, Kura
"I support the government for taking this bold measure of closing the school till October because Ebola is fast-spreading, and if children are allowed to resume school and then contract the disease only God knows how fatal it could be.
"So there's the need to contain it to avoid spreading it to other states. I also want to urge government to continue its sensitisation campaign so that people become more aware of the danger this virus poses to humanity."