Libya: France urges special UN support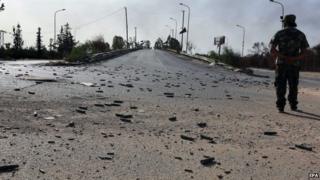 France is calling for "exceptional support" for Libya, warning the country could fall into chaos without United Nations intervention.
If no action is taken, French President Francois Hollande warned, "terrorism will spread across the region."
His comments come a day after the UN Security Council called for an immediate ceasefire in Libya.
It is also seeking sanctions against those involved in the surge in violence between rival militias.
The names of those to face sanctions have not yet been decided.
However, the Security Council has been alarmed by the increase in fighting between militia groups and Libya's army factions in recent weeks.
On 23 August a coalition of militias, including some Islamist groups, operating under the banner Libya Dawn, seized control of the international airport in the capital, Tripoli from a Zintan-based militia.
The victory, which secures the alliance's control over the capital, ends a five-week siege.