Zambia's President Michael Sata sacks Wynter Kabimba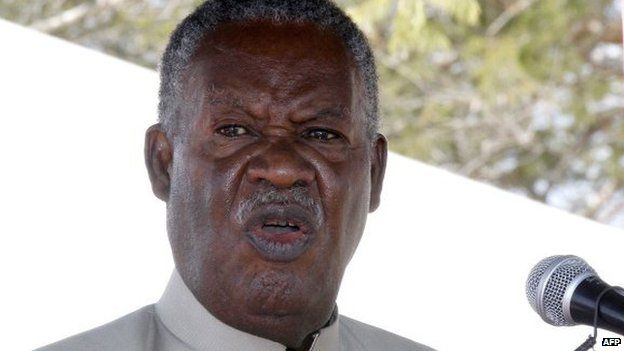 Zambia's leader has sacked his justice minister, who is seen as a potential successor, amid rumours the president is gravely ill.
President Michael Sata, 77, has not been seen in public since June and has missed several recent summits.
A presidential statement did not give any reasons for dismissing Wynter Kabimba as both minister and secretary general of the governing party.
Officials insist the president is in good health.
Finance Minister Alexander Chikwanda, who is also Mr Sata's uncle and is seen as another potential successor, this week said that a faction in the governing Patriotic Front was trying to take power.
If the president were to die in office, there would be elections within 90 days.
Vice-President Guy Scott, of British descent, is not eligible to succeed him because both of his parents were not born in Zambia.
Related Internet Links
The BBC is not responsible for the content of external sites.