Somalia's al-Shabab: Ahmed Abdi Godane targeted by US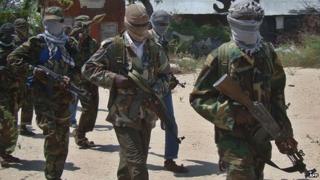 The US military has confirmed it carried out air strikes in Somalia, targeting the leader of militant group al-Shabab.
The Pentagon confirmed the operation by US special forces but said it was still unclear if Ahmed Abdi Godane was hit.
Rear Adm John Kirby told reporters that if the rebel leader had been killed, it would be a significant blow.
The US has carried out several air strikes in Somalia in recent years on areas controlled by the group.
The al-Qaeda-linked group told the AP news agency that six of its fighters were killed in the attack, about 240km (150 miles) south of the capital, Mogadishu.
Spokesman Abu Mohammed said the group's leader had been travelling in the convoy, which was on its way to the coastal town of Barawe, but he refused to confirm whether Godane was among the victims.
Godane is one of the US state department's most wanted men and it has placed a bounty of $7m (£4.2m) on his head.
Witnesses said they heard three loud explosions and saw black smoke rising from the area after the attack. Others say there was brief exchange of fire immediately after the explosions.
The attack, using manned and unmanned aircraft, came just hours after a senior US army commander visited Mogadishu and held talks with Somali military chiefs.
Abdikadir Mohamed Nur, the governor of Lower Shabelle Region, who is travelling with African Union (AU) troops in the area, told the BBC that the US strike had been successful.
"US drones managed to hit the representative of al-Qaeda in Somalia, who is also the leader of al-Shabab, Ahmed Godane," he told the BBC Somali service.
"We can tell that a senior figure from the group was killed due to the way they reacted after the attack, as they have started committing atrocities in the area, they have beheaded some people who had mobile phones and arrested many others [for spying]."
Witnesses told the BBC that American forces flew in by helicopter to collect the victims' bodies after the strikes.
---
Who is Ahmed Abdi Godane?
US put $7m (£4m) bounty placed on his head by US in 2012
Pledged allegiance to al-Qaeda in 2009
Became al-Shabab's top commander after US air strike killed his predecessor Aden Hashi Ayro in 2008
Sentenced to death in absentia for 2008 attack in Somaliland's capital, Hargeisa
Studied in Sudan and Pakistan, where he became radicalised
Said to have fought in Afghanistan
Reputed to be a good orator and poet
Also known as Mukhtar Abu Zubair
---
AU troops and Somali government forces recently launched an offensive against al-Shabab aimed at driving the group out of all the remaining cities under its control.
They say they are now closing in to the coastal city of Barawe, which has been the main stronghold of al-Shabab since they were driven out of Kismayo in 2012.
The US strikes come after al-Shabab rebels attacked a detention centre in Mogadishu on Sunday, in an apparent effort to free other militants detained there.
Somali officials said all of the attackers, as well as three government soldiers and two civilians, were killed.
The US has supported the AU force that has driven al-Shabab out of the capital and other towns since 2011.
The militants continue to carry out bombings and assassinations in Mogadishu.
Al-Shabab fighters want to overthrow the internationally supported Somali government and frequently attack government targets as well as neighbouring countries that provide troops to the AU force.
The group said it carried out last year's attack on the Westgate mall in the Kenyan capital, Nairobi, in which at least 67 people were killed.
African leaders met in neighbouring Kenya on Tuesday, where they agreed to share intelligence and resources to fight terrorism and violent extremism on the continent.
Nigeria's President Goodluck Jonathan said acts of terror by Boko Haram and others who shared their ideology were the biggest threat to regional stability.