Somalia car bomb suicide attack 'kills 12'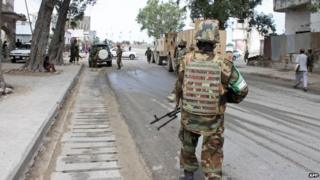 A suicide car bomber has killed 12 people in an attack aimed at African Union (AU) troops in Somalia, an official has said.
A car laden with explosives was rammed into an AU convoy travelling south-west of the capital, Mogadishu, said local governor Adukadir Mohamed Sidi.
The militant Islamist group al-Shabab said it was behind the attack. It had earlier vowed to avenge the killing of its leader Ahmed Abdi Godane last week.
Godane died in a US air strike.
Monday's attack took place on the road between Mogadishu and Afgoye town, some 30km (19 miles) from the capital.
"The car packed with explosives hit one of the armoured trucks," Mr Sidi told the Agence France-Presse news agency.
"Twelve civilians in a minibus were killed, and 27 others were wounded," he said.
The BBC's Mohamed Moalimu in Mogadishu says the injured include AU soldiers.
Mr Sidi told him the wounded were being rushed to hospital in Mogadishu.
Witnesses reported a huge blast and wave of fire, with civilians on the busy highway between the town and the capital caught up in the explosion, AFP reports .
"I saw two minibuses with pools of blood. Many civilians were killed. The explosion was enormous," it quoted a witness, Ali Muhidin, as saying.
The bombing came as New York-based rights group Human Rights Watch (HRW) accused AU troops of raping women and girls in Somalia.
The AU has some 22,000 troops battling al-Shabab in Somalia since 2007.
On Saturday, al-Shabab named Ahmad Umar, who is also known as Abu Ubaidah, as its leader.
Godane was killed last Monday when US drones and manned aircrafts fired missiles and laser-guided bombs on an encampment and convoy of vehicles about 240km south of Mogadishu.
His killing came just days after AU and Somali government troops launched Operation Indian Ocean to seize territory from al-Shabab.
The al-Qaeda-linked group controls much territory in rural Somalia, but has been driven out of Mogadishu and other major towns and cities.