BBC launches Hausa TV news programme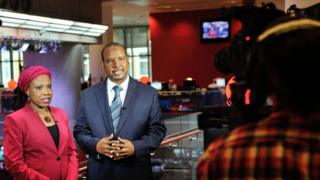 A television news programme broadcast in the West African Hausa language has been launched by the BBC.
The 10-minute weekday bulletins are the first time an international broadcaster has aired news programmes in the west African language.
Hausa is spoken by an estimated 100 million people in Nigeria, Niger and parts of northern Ghana.
The bulletins will be available on the BBC Hausa website and rebroadcast on some TV channels.
Liliane Landor, World Service controller of languages, said: "We are proud to be the first among international broadcasters to launch TV content in Hausa."
"The new TV bulletins will further broaden BBC Hausa's appeal to audiences - on TV and online - and reinforce the BBC's presence on the African media arena."