Oscar Pistorius verdict: Tweet round-up day two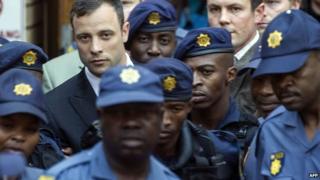 Judge Thokozile Masipa has found South African athlete Oscar Pistorius guilty of unintentionally killing his girlfriend Reeva Steenkamp, acquitting him of murder.
The double amputee was also found guilty of firing a gun in public - in a restaurant in 2013 - on the second day of the verdict hearing.
However, the judge acquitted Pistorius of firing a gun through a car sunroof and the illegal possession of ammunition, saying the prosecution had failed to prove that he was guilty beyond reasonable doubt.
Here is a round-up of the big moments via BBC tweets.
Murder verdict:
Other charges:
Bail ruling:
Sentencing date:
Reaction: