Ebola outbreak: Malaysia sends W Africa medical gloves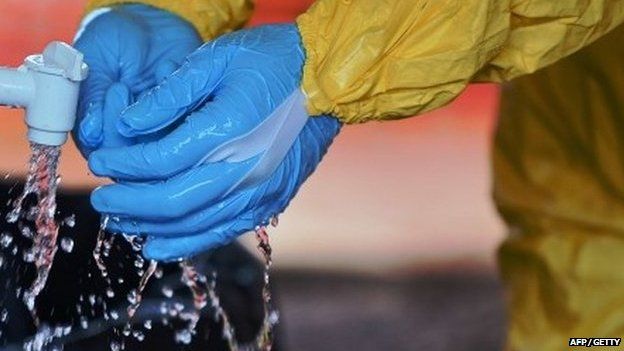 Malaysia plans to donate more than 20 million protective rubber gloves to five African countries affected by the Ebola outbreak, the government says.
They will be distributed among medical workers in Liberia, Sierra Leone, Guinea, Nigeria and the Democratic Republic of Congo.
A shortage of protective equipment has been one factor in the virus spreading.
It has killed more than 2,400 people, including many health workers, this year, in the world's worst outbreak.
Health workers in Liberia recently went on strike, saying they need more protective equipment.
Malaysia is a leading rubber glove manufacturer, producing 60% of the world's supply.
"Malaysia can make a unique and vital contribution to the fight against Ebola because we are one of the biggest manufacturers of rubber gloves," Malaysian Prime Minister Najib Razak said in a statement.
"We hope this contribution will prevent the spread of Ebola and save lives," he added.
Among the companies supplying the shipment are Sime Darby, Kuala Lumpur Kepong, IOI Corporation Berhad and Top Glove, the prime minister's office said.
Malaysia will send 11 containers overall, each holding 1.9 million gloves, the statement from Kuala Lumpur said.
The Malaysian government did not say who would pay for the shipment.
Ebola virus disease (EVD)
Symptoms include high fever, bleeding and severe headaches
Spread by body fluids, such as blood and sweat
Fatality rate can reach 90% but is 55% in this outbreak
Incubation period is two to 21 days
There is no proven vaccine or cure
Supportive care such as rehydrating patients who have diarrhoea and vomiting can help recovery
Fruit bats, a delicacy in parts of West Africa, are considered to be virus' natural host