Will Scottish referendum encourage Africa's separatists?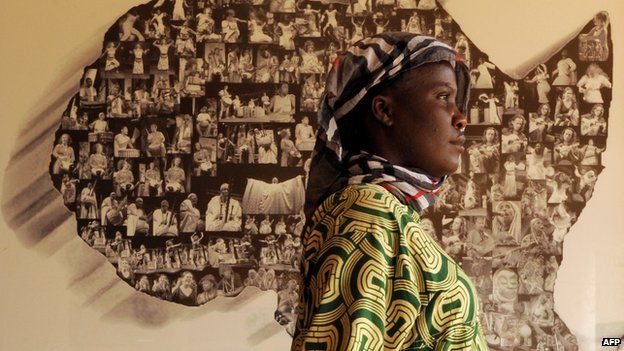 Many African countries have secessionist movements, partly because their borders were drawn up by colonial powers in the 19th Century. Will the Scottish referendum lead to a greater push for independence on the continent?
In one of the few referendums on sovereignty to be held in Africa, in 1961, the people of the British colony of Southern Cameroon voted to join the French territory of Cameroun, while the separate territory of Northern Cameroon opted to join Nigeria.
More than half a century later, some English-speaking Cameroonians want independence, saying they face discrimination by the French-speaking majority.
"The conspiracy between the UK and France denied us the option of independence. Now, the British are being haunted here," independence campaigner Ebenezer Akwanga told the BBC.
"They are all Anglo-Saxon, but the Scottish are having their own referendum with an in/out option. Why can't we?"
But analysts say there is unlikely to be a "domino effect" of independence referendums across Africa.
"The international community has no appetite to rearrange boundaries. It will be an endless process," says Paulo Gorjao, director of the Portuguese Institute for International Relations and Security.
Mr Gorjao argues that Africa's myriad secessionist movements are weaker now then during the Cold War, when they relied heavily on the support of either Western powers or the former Soviet bloc.
"Now, none of the major players support a faction against the government," Mr Gorjao told the BBC.
Expressing a similar view, Berny Sebe, a lecturer in colonial and post-colonial studies at the University of Birmingham in the UK, says the Polisario Front (PF) is a good example of a movement which has suffered as a result of the new international dynamics.
At the scene: Peter Musembi, BBC Africa, Glasgow
Africans make up a paltry 0.6% of Scotland's 5.3 million-strong population. But as the referendum is a tight race, their vote - along with that of other minorities - could influence the outcome.
Many Africans are as passionate about the referendum as the native Scottish. On Monday, a pro-independence rally was held in Glasgow's Calabash restaurant, a popular hang-out among Africans.
My impression is that many Africans will vote for independence. They believe Scotland has more favourable policies towards immigrants - for instance, a student can stay here longer than in England after graduating. They also draw parallels with Africa, arguing that just as British rule ended there in the 1960s, it has to end in Scotland.
But others disagree, saying that "petty nationalism" lies at the heart of the campaign for Scottish independence. They believe it will set a dangerous precedent, and encourage separatist groups in Africa to step up their campaigns for independence.
They also argue that being part of the UK benefits them economically as they can go to England to look for jobs - something that may become difficult if Scotland splits from the rest of the country.
The PF received strong Algerian and Soviet support in its campaign to press Morocco to give the Saharawi people their own homeland, while Morocco was backed by the US and France as it resisted their demands.
"Geo-politics in the region has changed. With the end of the Cold War, it is no longer critical to support the enemy of your enemy," Mr Sebe told the BBC.
While in Angola, the end of the civil war between the MPLA government and the Unita rebel group led to a decline in support for the Flec movement, which has been fighting for three decades for the independence of oil-rich Cabinda, which is physically separate from the rest Angola, Mr Gorjao says.
"People realise it's a lost cause. Everyone is benefiting from the stability of the last 10 years. People are living better, despite the corruption," he adds.
As African countries emerged from colonial empires, the Organisation of African Union (OAU), now the African Union (AU), agreed in 1963 to accept the existing boundaries in order to avoid border wars between newly independent states.
"This has been mostly respected and even when there were territorial disputes, they often stemmed from conflicting arrangements between rival colonial powers, like the conflict between Libya and Chad in the 1970s and 1980s," Mr Sebe says.
Mr Gorjao says referendums to change colonial boundaries have been the exception rather than the rule in Africa, and he does not expect any to be held in the foreseeable future.
"It doesn't make sense to hold referendums. It will open a Pandora's box," he says.
Only two internationally recognised states have emerged in post-independent Africa - Eritrea, which voted to break away from Ethiopia in 1993 and South Sudan, which split from Sudan in 2011 after a referendum backed by the United Nations (UN) and AU.
In both instances, the splits were messy - Eritrea and Ethiopia fought a border war between 1998 and 2000, which left some 70,000 people dead.
Similarly, South Sudan's boundary with Sudan has not yet been clearly demarcated, and both sides have accused the other of cross-border incursions.
South Sudan has also faced internal conflicts - the most serious one the battle between forces loyal to President Salva Kiir and his sacked deputy Riek Machar.
The fighting, which broke out in December, has forced nearly two million people to flee their homes.
Martin Ewi, an analyst with the South African Institute for Security Studies, says the crisis facing South Sudan may have harmed the cause of independence movements elsewhere on the continent.
"I don't think people will want to see new states emerging and heading in that direction," he says.
Citing the case of Cameroon, he argues that its secessionist movement is "dying every day".
This is because ethnic affiliations cut across internal boundaries and are stronger than "Anglophone or Francophone nationalism", says Mr Ewi, who is a Cameroonian.
Furthermore, President Paul Biya's government has made efforts to address the grievances of English-speaking Cameroonians, Mr Ewi argues.
"Having travelled around the country, I don't see a fundamental difference in development [between former British and French-controlled areas]," Mr Ewi told the BBC.
"When it comes to education, there were only French-speaking universities in the past but that argument no longer holds. Today, we have English-speaking universities," he adds.
However, Mr Akwanga, who seeks independence for English-speaking Cameroon, disagrees.
He argues that as many African governments are repressive, only international pressure will force them to hold referendums.
"In Paul Biya's Cameroon, no party similar to the SNP will be allowed to win an election," Mr Akwanga says.
On the other side of the continent, some residents of the Indian Ocean island of Zanzibar are following the Scottish referendum, hoping for something similar to determine its relationship with mainland Tanzania, says the BBC Aboubakar Famau, who is on the island.
Once a British protectorate, Zanzibar became part of Tanganyika in 1964, forming the United Republic of Tanzania.
Although it is already a semi-autonomous territory with its own parliament and president, many people in Zanzibar believe it gets a raw deal and are pushing for more powers or outright independence.
The Tanzanian government has agreed to review the constitution in an attempt to address their grievances.
Scotland: Road to referendum
Kingdom of Scotland emerges as sovereign independent state in early Middle Ages
Its monarch James VI becomes king of England and Ireland in 1603
Forms political union with England in 1707 to create Kingdom of Great Britain
Powers devolved to Scottish parliament after 1997 referendum
Pro-independence Scottish National Party wins overall majority in 2011 election
Opens way for 18 September referendum
In Nigeria, the military brutally crushed efforts to create the breakaway state of Biafra in the south-east in 1967, seven years after Nigeria won its independence from Britain.
Some 50 years later, "secessionist demands are never too far from the surface" in Africa's most populous state, which is heavily divided along ethnic and religious lines, says Mannir Dan Ali, editor of Nigeria's Daily Trust newspaper.
"Currently, all the regions are suspicious of the real intention of the other," he told the BBC.
"However, at sober moments, most people agree that Nigerians need each other and it is only in one Nigeria that you will have the numbers and the variety of resources to become an important country that could satisfy the yearnings of more if its citizens."
Mr Sebe argues that the emergence of militant Islamist groups like Nigeria's Boko Haram reduces the chances of foreign powers supporting the creation of potentially failed or shaky states where jihadis could operate freely.
"Nigeria is an artificial country formed as a result of British imperial activity. There is a distinct possibility of more devolution, but I don't see its unity under threat in the current circumstances," he told the BBC.
He says in Africa, Libya faces the biggest threat of disintegrating as rival militias battle for power following the overthrow of long-serving ruler Muammar Gaddafi in 2011.
"Unfortunately, it is quite similar to Somalia in the 1990s, where the world witnessed the gradual decomposition of the state," Mr Sebe says.
Since long-server ruler Siad Barre was overthrown in 1991, several self-governing territories have emerged from Somalia, but none are internationally recognised.
No effective central government exists in Libya either, with militias, split along ideological, regional and ethnic lines, fighting for territorial control.
In the east, regional leaders declared autonomy, calling the area Cyrenaica - a name which harks back to the 1950s when Libya's regions enjoyed federal power.
Mr Sebe says the resolution of the conflict in Libya will require the concerted effort of Western and Arab states, but their attention is currently focused on Iraq and Syria, raising the risk that its disintegration will continue.
But overall, most African states are more stable and democratic now - and there are stronger links between different ethnic groups - than in the period immediately after independence, analysts say.
This is another reason why we are unlikely to see more African countries breaking apart in the near future.
Related Internet Links
The BBC is not responsible for the content of external sites.