Ebola virus: Press split on US, regional response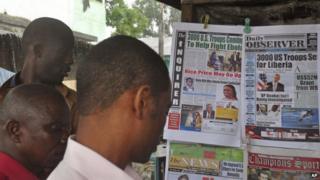 US President Barack Obama's announcement of financial and practical aid for West African countries worst-hit by the Ebola virus is met with gratitude by some local commentators, but others feel the US should have intervened before now.
An editorial in the Sierra Herald gives effusive thanks to Washington. "US President Obama takes the lead in the fight against the Ebola scourge," it enthuses, adding that a "very grateful sub-region awaits".
In Niger, which has yet to be touched by the virus, L'Enqueteur newspaper agrees.
"There is nothing more to be said to those who still doubt, except that the United States is increasingly present with us," it says. "What else to say, except thank you, Uncle Sam?"
The superpower has spoken
Liberian daily The Analyst is also optimistic. "If Ebola were a visible enemy force, it would by now be calling for a truce with Liberia and other embattled countries or it would simply begin digging trenches for its own graves. The World's Superpower has spoken," it says.
But in Nigeria, the news portal Gamji.com castigates the US for its "reluctance" to share new, experimental drugs.
"It is puzzling why over a thousand Africans had to die before talks of a vaccine hit the airwaves."
The article suggests that had two Americans not contracted the virus, Africans would "not be close to any drug of any sort."
Proving critics wrong
But governments in the region also get a varied response to their handling of the crisis.
In Senegal, the reported survival of a young Ebola-suffering Guinean in the country prompts praise for the authorities.
"Our country has healed an Ebola patient at a time when the disease is wreaking havoc elsewhere," the news portal Seneweb says.
"We can take pride in our medical staff and scientists, in the organisation of our health system."
In Nigeria, the daily Punch is also positive about the government's efforts. "The Nigerian government has been able to prove its critics wrong by rising to the occasion," it says.
But there is no praise for Liberian officials from The New Dawn daily, which notes that "some... chose to ignore" President Ellen Johnson-Sirleaf's order restricting foreign travel.
"We think it is absolutely unpatriotic to forsake one's country in difficult times such as the current health crisis".
And there are no plaudits for Guinea's response to the crisis from Senegalese daily L'Aurore.
"If in other countries in the West African sub-region, the Ebola outbreak has forced the unit to cope - in Guinea, it has actually revived political and social tensions."
No panic
Media outlets have also been debating their own response, amid concern that sensationalism may be causing panic.
Leading Guinean news website Guineenews says what it calls the "pandemonium" surrounding Ebola may be counterproductive, citing a doctor taking "a furtive and frightened look" at his patients and of major hospital departments being closed.
In Sierra Leone, the Sierra Express Media website complains about the "Ebolization" of every death in the country.
"The panic-stricken public is dissuaded from frequenting health facilities... fearing that they will be treated with suspicion, and often be tagged as Ebola suspects," it says.
BBC Monitoring reports and analyses news from TV, radio, web and print media around the world. For more reports from BBC Monitoring, click here. You can follow BBC Monitoring on Twitter and Facebook