Ebola death rates 70% - WHO study
By Helen Briggs
Health editor, BBC News website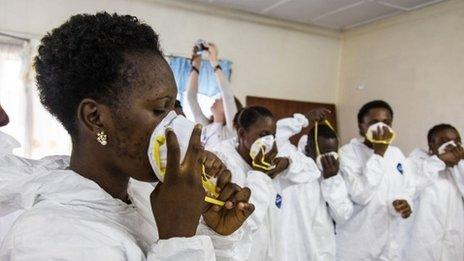 New figures suggest 70% of those infected with Ebola in West Africa have died, higher than previously reported, says the World Health Organization.
Ebola infections will treble to 20,000 by November if efforts to tackle the outbreak are not stepped up, the UN agency has warned.
In the worst case scenario, cases in two nations could reach 1.4 million in January, according to a US estimate.
Experts said the US numbers were "somewhat pessimistic''.
The world's largest outbreak of Ebola has caused 2,800 deaths so far, mainly in Guinea, Liberia and Sierra Leone.
Outbreaks in Senegal and Nigeria were "pretty much contained", said the WHO.
More than 160 NHS staff have volunteered for UK efforts to help in the outbreak.
Chief medical officer for England, Prof Dame Sally Davies, confirmed that the British nurse who survived Ebola, William Pooley, has volunteered to give blood that could help treat patients.
The Sierra Leone army has closed the country's border with Guinea and Liberia to vehicle traffic in a bid to control the spread of Ebola.
British military and humanitarian staff have arrived in Freetown to oversee the construction of the UK's medical facility and assist with the response to the outbreak.
Scientists have warned that swift action is needed to curb the exponential climb in the Ebola outbreak.
Ebola deaths
Figures up to 13 January 2016
11,315
Deaths - probable, confirmed and suspected
(Includes one in the US and six in Mali)
4,809 Liberia

3,955 Sierra Leone

2,536 Guinea

8 Nigeria
Getty
Two new estimates suggest that cases of Ebola could soar dramatically in the three countries with the majority of cases.
The analysis of confirmed cases also suggests death rates are higher than previously reported at about 70% of all cases, rather than 50%.
Dr Christopher Dye, Director of Strategy for WHO, said unless control measures improved quickly "these three countries will soon be reporting thousands of cases and deaths each week, projections that are similar to those of the Centers for Disease Control and Prevention (CDC)".
The CDC said that there could be up to 21,000 reported and unreported cases in Liberia and Sierra Leone alone by the end of this month.
In predictions released on Tuesday, the US health agency said cases could reach as many as 1.4 million by mid-January, if efforts to control the outbreak are not scaled up.
But experts cautioned that the numbers seemed "somewhat pessimistic'' and did not account for infection control efforts already under way.
Meanwhile, The Wellcome Trust charity has announced that experimental drugs will be tested in West Africa for the first time. They include the drug ZMapp, which has been given to a handful of infected health workers.
Dr Peter Horby, of the Centre for Tropical Medicine and Global Health at the University of Oxford, said the first trials could begin in West Africa as early as November.
"We want to evaluate these carefully, properly, in affected countries in West Africa," he told the BBC.
"For the next one or two weeks we'll be doing site assessments and we'll be working with the WHO on identifying which drugs to prioritise, and then there'll be a number of steps in setting up the systems - getting ethical approval through the countries and getting community participation and agreement to run the trials."
Related Internet Links
The BBC is not responsible for the content of external sites.