Mali beheading: Abducted Tuareg man decapitated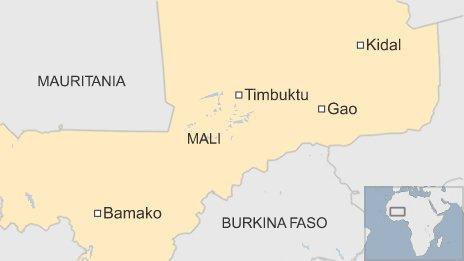 A Tuareg man who was abducted last week by suspected Islamist militants has been found beheaded in northern Mali.
Four other men who had been kidnapped with him have been released, say residents of Zouera village, some 80km (50 miles) north of Timbuktu.
Villagers believe their abductors were members of al-Qaeda in the Islamic Maghreb (AQIM) targeting alleged spies.
French troops forced Islamist militants from key towns in the north last year and a UN force is now on the ground.
The BBC's Alex Duval Smith in the capital, Bamako, says that if AQIM fighters are found to be responsible for the beheading, it would be the first in Mali by a radical Islamist group.
The man has not yet been identified.
AQIM, along with Islamist allies, took advantage of an uprising by Tuareg rebels in the north of the country to take over territory in 2012.
Since they were ousted from northern towns, militants in the vast desert region have continued to mount attacks on UN peacekeepers and French special forces.
The kidnappings took place last Tuesday in Zouera, when the village held its weekly market which is attended by Tuareg nomads.
Witnesses said armed men, who arrived in two pick-up trucks, warned those at the market against becoming informants.
Our reporter says the abduction followed the capture in August by French forces of three suspected AQIM members near Timbuktu.
The Tuareg man's head was found this Tuesday before the start of the market, residents told the Reuters news agency.
His decapitated body was found under a tree in the centre of town, they said.
Nomadic Tuareg communities in northern Mali have complained of being marginalised since independence from France in 1960.
They are amongst several groups attending on-off peace talks in Algeria to settle issues of how the north should be governed.
Related Internet Links
The BBC is not responsible for the content of external sites.