Somalia battles al-Shabab for Galgala mountains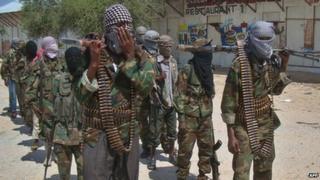 Troops in northern Somalia have battled al-Shabab Islamist militants for the Galgala mountains, with both sides claiming to have won.
The fighters have been holding the northern mountains for several years.
An al-Shabab spokesman told the BBC that after a heavy battle they still controlled the territory in Puntland.
The al-Qaeda aligned group is mainly based in southern and central Somalia where the African Union force is heading a major offensive against it.
Abdiweli Hirsi Abdille, the information minister of Somalia's north-eastern region of Puntland, told the BBC that troops had captured the Galgala region in an early morning offensive.
He gave no details of prisoners or casualties.
An al-Shabab official, who spoke to the BBC on condition of anonymity, said that after fierce fighting they had fought off the assault, killing 20 soldiers, including the commander of the operation.
Galgala is the only area in Puntland that has been under the control of al-Shabab.
BBC Somalia expert Mary Harper says with the recent loss of some towns in central and southern Somalia, dozens of al-Shabab fighters have been heading northwards to seek refuge in the mountains.
The area is also strategic as it allows the militants to receive arms shipments from allies in Yemen, she says.
Mr Abdille attributed the military's reported success on Wednesday morning to the recent defection of Said Atom, who he said was a leading al-Shabab commander in Galgala.
Mr Atom is a known Islamist militant in Puntland with fighters under his command, but al-Shabab says he was not part of their group.