Dalai Lama visa row halts Nobel forum in South Africa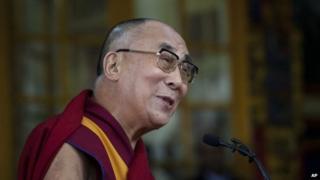 A meeting of Nobel Peace Prize laureates, due to be held in Cape Town, has been cancelled after South Africa refused the Dalai Lama a visa.
The decision was made after 14 of the laureates threatened to boycott the event.
The mayor of Cape Town, Patricia De Lille, supported the boycott, criticising the government's "intransigence".
South Africa has denied the Dalai Lama a visa three times in five years.
Remembering Mandela
The 14th World Summit of Nobel Peace Laureates was scheduled to start next week but organisers say it will now be moved to another country.
Attendees were planning to celebrate the 20th anniversary of the end of apartheid as well as honour the late Nelson Mandela, himself a Nobel Peace Prize recipient.
The Dalai Lama on Thursday accused South Africa of "bullying a simple person".
It has been suggested that South Africa is trying to ally with China, which views the Tibetan spiritual leader as a separatist.
Desmond Tutu, another Nobel Peace Prize winner and a South African, also criticised the government.
"I'm ashamed to call this lickspittle bunch my government," he said.