Mali conflict: UN urged to send more troops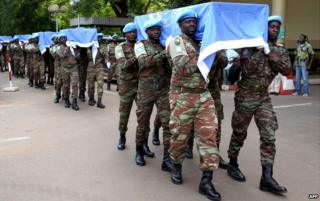 Mali has asked the UN to send a rapid intervention force to fight Islamist militants in the north of the country.
Malian Foreign Minister Abdoulaye Diop told the UN Security Council that urgent measures were needed following recent killings of UN peacekeepers.
A Senegalese soldier died on Tuesday, days after nine peacekeepers from Niger were killed by militants.
The UN's peacekeeping chief said Malian forces had been unable to fill the gap left by departing French troops.
French and African troops intervened in Mali in January 2013 to stop the southern advance of al-Qaeda-linked fighters on the capital, Bamako.
The insurgents were expelled from the northern towns but have continued attacks against the UN force deployed to help bring stability.
The 9,000-strong UN force, known as Minusma, took over peacekeeping operations in July 2013.
Speaking to the UN Security Council via a video link, Mr Diop warned that the region once again ran "the risk of becoming the destination of hordes of terrorists".
He said "urgent measures" were needed to bolster the UN mission, saying it must have "appropriate means to fulfil its mandate".
"Perhaps the council should consider setting up a rapid intervention force that would be able to fight the terrorist elements," Mr Diop added.
The appeal for more robust action in northern Mali came amid some of the deadliest violence to target a UN peace mission in recent years.
Helicopters, drones on the way
In all, 31 peacekeepers have now been killed, and 91 injured, since the mission was established in July 2013, according to UN peacekeeping chief Herve Ladsous.
He told the Security Council that UN soldiers were facing "a whole range of threats: rockets fired randomly, mortar shells, suicide attacks, ambushes".
Mr Diop did not specify what kind of force he envisioned but Mr Ladsous said the UN mission would be sent combat helicopters and drones in the coming months.
Mali descended into conflict after a coup in 2012 prompted by concerns over how to deal with a Tuareg rebellion in the country's vast northern desert region.
Al-Qaeda with its Islamist allies took advantage of the subsequent chaos to seize the north, sidelining the Tuaregs.
Since the UN troops deployed, presidential polls have been held and the Tuareg community is now among several groups attending on-off peace talks in Algeria to settle issues of how the north should be governed.