Ebola spread 'bigger than expected' - WHO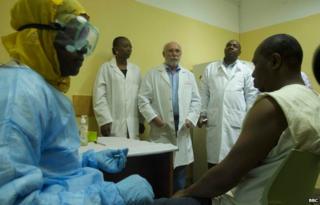 Leading global health experts did not anticipate the scale of the Ebola outbreak, a senior health official has told the BBC.
Chris Dye from the World Health Organization (WHO) said the international response was helping but needed to continue.
Ebola is now entrenched in the capitals of the worst-affected states - Guinea, Liberia and Sierra Leone, WHO says.
The outbreak has killed more than 3,860 people, mainly in West Africa.
More than 200 health workers are among the victims.
Mr Dye said that that although no-one was in a position to anticipate the scale of the current outbreak, the important thing was to look forward.
"We've asked for a response of about $1bn (£618m); so far we have around $300m (£185m) with more being pledged, so a bit less than half of what we need but it's climbing quickly all the time," he said.
In April, the medical charity Medecins Sans Frontieres (MSF) warned of the potential spread of the virus, but the WHO played down the claims, saying that Ebola was neither an epidemic, nor was it unprecedented.
On Friday MSF reported a sharp increase of Ebola cases in the Guinean capital, Conakry, dashing hopes that the disease was being stabilised there.
Meanwhile in Mali, an experimental serum is being tested on volunteer health workers.
The trial spans several countries, and the results will be sent to experts to determine whether it is able to protect against Ebola.
Meanwhile in Spain, seven more people are being monitored in hospital for Ebola.
They include two hairdressers who came into contact with Teresa Romero, a Madrid nurse who looked after an Ebola patient who had been repatriated from West Africa.
Ms Romero is now reported to be gravely ill but stable.
In other developments:
Nigeria's military has now confirmed that more than 1,300 Nigerian peacekeeping troops have been quarantined in Liberia after coming into contact with a Sudanese man who later died of the disease. It had earlier denied such reports
In Liberia, senate elections due next week have been postponed to help reduce the risk of voters spreading the virus
More details of how passengers at some British airports will be screened are expected to be announced later on Friday
The US begins its programme of enhanced screening this weekend at five of its major airports, including JFK
A Texas county sheriff deputy quarantined after visiting the home of the first person diagnosed with Ebola in the US has been given the all-clear.
---
Avoid direct contact with sick patients
Wear goggles to protect eyes
Clothing and clinical waste should be incinerated and any medical equipment that needs to be kept should be decontaminated
People who recover from Ebola should abstain from sex or use condoms for three months
---
Ebola facts
People can catch Ebola if they are in direct contact with the bodily fluids of an infected person or animal
Early symptoms include fever, muscle pain, headache and sore throat. This is followed by vomiting, diarrhoea and bleeding, sometimes from the eyes and mouth
The current outbreak started in March in west Africa, where the worst-affected countries include Guinea, Sierra Leone and Liberia
It is thought unlikely that the disease would spread if it did come to the UK because quarantine and communications are more developed than in parts of western Africa
There is no licensed Ebola vaccine but treatments are in development
---
---
Are you in West Africa? How has Ebola affected you? You can email your experiences to haveyoursay@bbc.co.uk.