Kenya Catholic Church tetanus vaccine fears 'unfounded'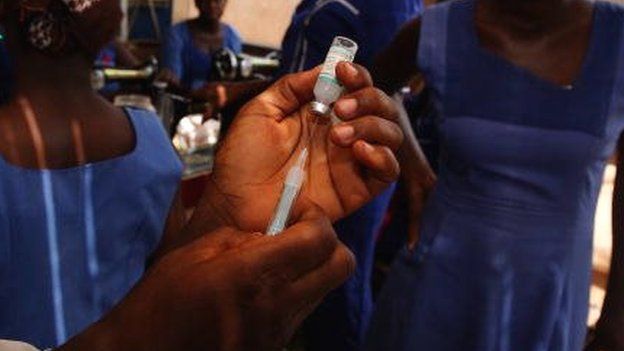 Kenya's government has dismissed allegations made by the country's Catholic Church that a tetanus vaccine can cause sterility in women.
"It's a safe certified vaccine," Health Minister James Macharia told the BBC.
Catholic priests have been telling their congregations to boycott a campaign that begins on Monday to vaccinate women against tetanus.
Tetanus is regarded as a big threat to babies in Kenya, with a new-born child dying every day of the infection.
According to Kenya's health ministry, about 550 babies died of tetanus in Kenya last year.
Caused by a toxin made by the bacterium Clostridium tetani
Usually enters the body through a wound - often caused by an animal bite
Symptoms include headache, fever and muscle stiffness in the back, neck, arms and jaw
Without treatment can lead to painful muscle spasms
If the muscles of the chest and throat are affected, then a person may find it difficult to breathe and could suffocate
Some 40% of Kenyans are Catholics and the Church warning could deter many women from getting vaccinated, says the BBC's Frenny Jowi in the capital, Nairobi.
Last week, a meeting of Catholic bishops in western Kenya called on the government to stop the rollout of the vaccination campaign, saying it was a plot to target women of child-bearing age.
The bishops called for more tests to be done on the vaccine.
"The ministry must stop making noise and allow the Church to sample the vaccines before they are given," Dr Stephen Karanja, the chair of the Catholic Doctors Association in Kenya, told the BBC.
He said tetanus vaccines tested earlier in the year contained an antigen - an agent that triggers antibody production by the body's immune system - which could cause sterility in women.
But Mr Macharia said the vaccine had been approved by the World Health Organization and Unicef.
"I would recommend my own daughter and wife to take it because I entirely 100% agree with it and have confidence it has no adverse health effects," Mr Macharia said.
Related Internet Links
The BBC is not responsible for the content of external sites.